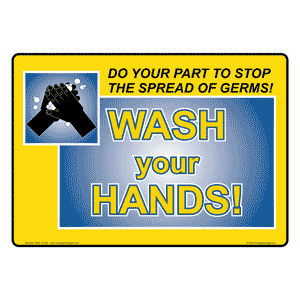 Washing your hands can save lives. Countries where there is no clean water for handwashing suffer from a variety of diseases that could otherwise be prevented. Diners at restaurants in the United States regularly become sick due to kitchen staff cutting corners. This is why there are laws that not only require your workers to wash their hands but that require you to post handwashing signs for Los Angeles. Fortunately, The Sign Studio has you covered with a broad range of markers for every situation.
Types of Handwashing Signs
We know that not all organizations are the same. What works for one business may not make sense for another. To help with this, we offer a wide variety of handwashing markers:
General Handwashing Reminders – You can help stop the spread of human illness and food-borne pathogens with proper handwashing. Remind visitors and employees to keep your workplace in compliance and healthy with these simple to understand wash your hands signs for Los Angeles. Our "Do your part to stop the spread of germs! Wash your hands!" signs are particularly popular.
Instructional Signs – To prevent the spread of harmful germs, show guests and workers alike the proper handwashing techniques with these simple to read signs. They are great anywhere contamination is a concern, such as daycares, restaurants, schools, and medical offices.
Handwashing for Food Handling – Our food handling signs cover a vast array of topics and come in a range of materials and sizes. And, they are not just for restaurants. School, hotel, church, factory, and office cafeterias and kitchens can benefit from these markers.
ADA Braille Handwashing Markers – We are one of the top suppliers of Braille restroom signs in the area. Our attractive Grade 2 Braille surface-mounted acrylic handwashing markers are always a favorite alternative. We even offer colors that match your company's branding.
Engraved Wash Your Hands Signs – We have an array of standard colors for your engraved handwashing signs, and they can come with self-adhesive backing or mounting brackets. We can even install them for you if you wish.
Clear Labels – Remind guests and employees to keep it clean with these clear hand wash labels. They are self-adhesive and work well on chrome surfaces, windows, and mirrors. Options include instructional pictorials, "Wash hands before entering production area" signs, and "Promote a healthy environment please wash your hands" markers.
Child Friendly Signs – Teach children that handwashing is crucial to fighting germs by using these kid-friendly and colorful wash your hands markers. They can be used wherever kids congregate, such as pediatric offices, daycares, churches, and schools.
Frames and Plaques – If you run a classy establishment and want your handwashing signs to match your branding or interior décor, designer plaques and frames are a smart solution. These are ideal for upscale restaurants, country clubs, and law firms.
These are just some of the solutions we offer. We can also customize any marker to fit your needs. If you are ready to stop the spread of germs in your venue, contact friendly professionals at The Sign Studio today for handwashing signs.