ADA Signs, Title 24 Restroom Signs, Handicap Signs

Adequate ADA compliant signage is required in just about all public buildings in the Los Angeles area. This includes signs both inside and outside of your building and in the parking lots. The Sign Studio is one of the leading suppliers of ADA signage in the Los Angeles metropolitan area. To aid your company in meeting the requirements set out in the Americans with Disabilities Act, we have the highest quality and most innovative portfolio of products. With our fabrication process, we can create custom solutions for your project.
Types of ADA Signage
We produce all varieties of ADA compliant signs. Some of the kinds clients commonly need are
Wayfinding signs for handicapped accessible routes and exits
Braille suite signs and directories
Restroom signs
Handicapped parking signs
And more
We offer an array of heavy duty materials that can withstand every type of weather condition to make sure your ADA signs are in compliance for many years to come. Foam, plastic, various metals, wood, and aluminum are among the materials we often use.
Build Your Brand with Customization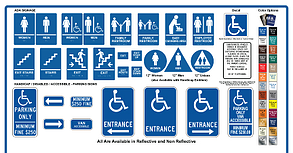 Most businesses are driven to install ADA signs because they are afraid of potential complaints or lawsuits. Consequently, many of these enterprises will get the cheapest option and be done with it. Unfortunately, they are missing out on a great branding opportunity. While still communicating the necessary information to visitors of your building, we can make signs using your company colors and incorporating your logo. This will go a long way in helping your brand awareness, which is a major driver in sales.
The signs we can design for you are entirely customizable depending on what materials you want. We can provide you with alternatives that go well with your current décor. In the sign industry, just about anything is possible with today's technology. To product anything you need, The Sign Studio has the latest cutting edge equipment.
Businesses that Benefit from ADA Signs
With our extensive expertise and knowledge, we will guide you through every step of the process from the initial consultation to installation and maintenance. We offer ADA signage to the following organizations:
Theaters
Hotels
Airports
Municipalities
Highly recognized organizations
Firms
Retail stores
Restaurants
Medical facilities
Educational institutions
And any other business that needs ADA signs
Using all of the materials and equipment we keep in house, we hold every ADA signage job to our highest standards to ensure top quality results for our clients. Our design team has access to a wide variety of resources that can contribute to the perfect marker. With our in depth experience with ADA regulations, we are your one-stop signage solution. Plus, we work with a Certified Access Specialist who can go through your building and determine what you need to do to be compliant.
Areas We Serve
From our headquarters in Burbank, California, The Sign Studio is proud to serve the Glendale, Pasadena, Los Angeles, Hollywood, and LA County communities. If you want to learn more about ADA signs, contact us today for a free consultation and quote.
Additional ADA and Title 24 Signage Information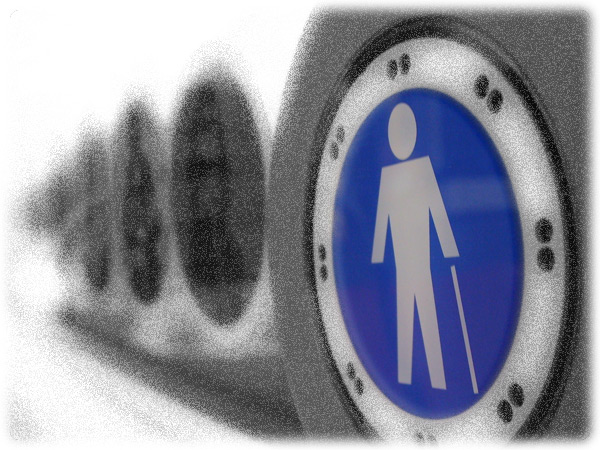 The Sign Studio is your information resource for ADA and Title 24 restroom signs. We realize regulations are difficult to understand and follow. If you have questions, we have the answers. We will provide you with high quality, custom-designed signs for use indoors or outdoors.

The following information may answer one or more of your questions:
We manufacture our compliant signs in eggshell, matte or other non-glare finishes.
We adhere to all mounting location and height requirements.
We follow the current International Symbols of Accessibility (ISA) guidelines.
We exist to help facilities and businesses requiring assistance with sign design and placement. We are confident we can meet and surpass your expectations with our friendly customer service and knowledgeable team.

If you have any questions or need assistance with anything, please give us a call at The Sign Studio (818) 843-9200
(818) 843-9200 or send us an e-mail at info@signstudiola.com.