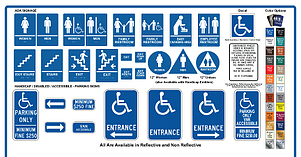 Many building and business owners come to us with questions like "Should I install ADA signs for my business in Los Angeles?" Or, "How do I know if I need ADA signs in Los Angeles?" The ADA website has the answers to both of these questions as well as more information about ADA compliance. However, below is what we generally tell business owners.
Why Do Companies Need to Install ADA Compliant Signs?
There are a variety of reasons why businesses are required by law to have ADA complaint signs. Regardless of what disabilities they may have, every person in the United States is entitled to the same rights according to the Americans with Disabilities Act (ADA). The act of discriminating against people with disabilities is effectively outlawed by the ADA.
It makes sense that people are given equal chances to access goods, jobs, and services with the number of disabled people in the country and the many more who stand a chance of getting a mild to extreme disability in their lifetime. One of the several regulations that allow people with disabilities to have access to and find such services, jobs, and goods as everyone else is the use of ADA complaint signs in facilities and buildings open to the public.
Why Do Signs Need to Comply with ADA Rules?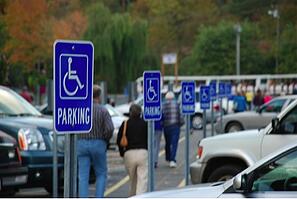 There are also a lot of reasons behind the necessity for ADA complaint signs. First of all, businesses open themselves up to both lawsuits and complaints when they do not comply with the ADA regulations for signs. Since you are considered to be discriminating against people with disabilities when you are not complying with ADA rules, anyone who notices your non-compliance can file a complaint or lawsuit.
People with disabilities really do need these signs to help them get around your business. This makes ADA signage quite necessary for the success of your enterprise. In fact, a lot of revenue for companies is from customers who have disabilities. Not only do they buy your products and services, but they also bring other people with them. If you do not cater to those customers with disabilities, you are potentially turning away your best clients.
Which Establishments Do Not Need to Follow ADA Standards?
Putting up ADA compliant signs in and around buildings is a requirement for all but a few types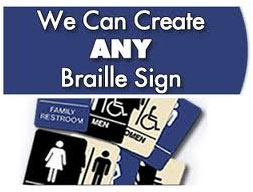 of facilities. Among these establishments are religious entities and the facilities they run, railroads, and private clubs that do not open their doors to the general public.
Hopefully, this has shed some light on the ADA compliance guidelines. If you need more information, The Sign Studio is here to help you. We create standard as well as custom ADA signs that are up to code. Are you unsure of what signage you need? No problem! We work with a trained professional who is certified through California's Certified Access Specialist Program and who can go through your building and break down what you need to do to meet regulations.
Contact us today for a free consultation or click below for a free quote!