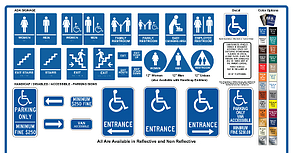 In 1990, Congress passed the Americans with Disabilities Act (ADA). With the passage of this act, it became federal law that every business and property owner that serves or accommodates the public must make their premises accessible to the disabled. Without dealing with disability access, running a company is complicated and time consuming enough. However, the issues of ADA compliance still must be addressed.
This issue is more difficult to address in California, the strictest state when it comes to ADA compliance. Fortunately, many of the regulations set forth in both state and federal laws can be met by simply placing easy to read signs in appropriate spots. This is where The Sign Studio can help out.
ADA Compliance Signs for California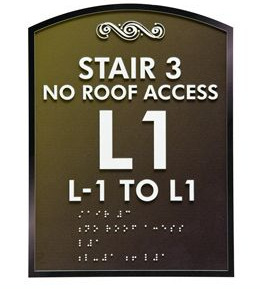 There are specific requirements for precise types of exterior and interior signage set forth in the ADA. Some of these laws include:
Mounting height and location is specific to the type of sign
Character height must be sized according to the viewing distance from which they are to be read
Symbols may be required to accompany text
Signs must have a non-glare finish
Typestyle must be sans serif with contrasting colors, such as dark characters on a light background or vice versa
Grade II Braille
There are many interior signage types that also require the addition of Braille as well as following the above requirements. Braille is the raised dots that accompany the tactile text of a sign. In buildings where the public has general access, stairways, exit routes, restrooms, handicap access points, room signs, exits, and other permanent signs are required to have raised number or letters with corresponding Braille characters and even pictograms on occasion.
We Can Help
California ADA compliance signs are our specialty. We have a full line of standard signs in stock. Or, we can make custom signs for your company. This is generally the better move,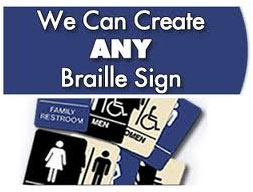 since custom signs can be made to precisely match your business's colors and can potentially include your company name and logo. This is helpful in branding your enterprise and helping build trust and convert sales.
Are you unsure about what signs you need to be compliant? No problem! We work closely with a company that is certified through California's Certified Access Specialist Program. A trained professional can go through your building and determine exactly what needs to be done to make it compliant. With that information, we can determine what signs are appropriate.
Is Becoming Compliant Expensive?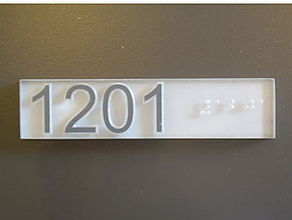 Many businesses avoid updating their building to be compliant because they are afraid of the costs. This is dangerous. First of all, potential disabled customers and employees and their advocates will be turned off by your company thus hurting sales. Secondly, you leave yourself open to potential lawsuits. Lastly, we offer ADA compliance signs made from an array of material that fit just about any budget.
If you are ready to make your business friendlier to those with disabilities while also avoiding potential lawsuits, you could buy California ADA compliance signs online, or you can contact The Sign Studio and know for sure that you are getting precisely what you need.