Channel Letter Glossary - Need a quick channel letter term definition? Here are a few common ones:
Acrylic: Translucent plastic used as a channel letter face material. Acrylic is available in a wide of colors, and its thickness is typically 1/8" or 3/16".
Channel Back: Aluminum that is routed in the shape of a letter to form its backing.
Cut-off switch: Electrical switch placed on the outside of the building, usually above, below or on a channel letter signs raceway.
Drain holes: Small holes placed at the bottom of a channel letter. Drain holes permit rain and condensation to drain out of a letter's interior.
Electrode: The terminal at the end of a neon tube that connects to a GTO wire. Neon tube fabricators attach electrodes to glass tubes by melting the glass to form an airtight weld.
GTO cable: Insulated electrical wire designed for high-voltage current. GTO cables connect neon tubes.
Electrode boot: A rubber boot designed to be installed on the double back or electrode of a neon tube to protect against electrical shocks or arcing.
LED: An electronic light source for channel letters. LED stands for Light Emitting Diode, and this type of lighting is illuminated by the movement of electrons in a semiconductor material. LED Channel letters are becoming more and more popular.
Neon: Another illumination option for channel letters, neon is a luminous glass tube filled with inert gas. High voltage electricity from a transformer excites the gas to produce light. Tubes may be bent to form various shapes and letters.
Permit: A legal document required by a municipal building department that allows the installation of a specific sign at a designated location. It is illegal to erect a new sign without first obtaining the appropriate permit.
Polycarbonate back: A protective plastic insert cut to the same shape as a reverse channel letter and attached to seal the letter's back. This prevents rainwater entry and also keeps animals from nesting inside the letter. Polycarbonate backs also provide mounting surfaces for neon tube supports.
Raceway: An enclosed aluminum channel (typically 8" by 8") that spans the entire length of the letters. Channel letters are pre-installed on the raceway in the shop, thus simplifying installation in the field.
Return: The side of a channel letter. Returns are commonly constructed of aluminum, and are typically 5" deep.
Tie wire: Thin copper wire that attaches a neon tube to a tube support.
Transformer: A channel letter's high-voltage power supply. Transformers are available in various current outputs, typically ranging from 7500V to 15,000V.
Trim cap: The flexible plastic edging that surrounds a channel letter's face. Trim caps are chemically welded to the face, and are available in a variety of colors.
Tube support: A glass standoff that typically is fastened to a channel letter back to hold neon tubing in place.
UL-approved: Underwriter's Laboratories (UL) is an independent product safety certification organization. UL approval means that all sign components meet UL standards for electrical safety.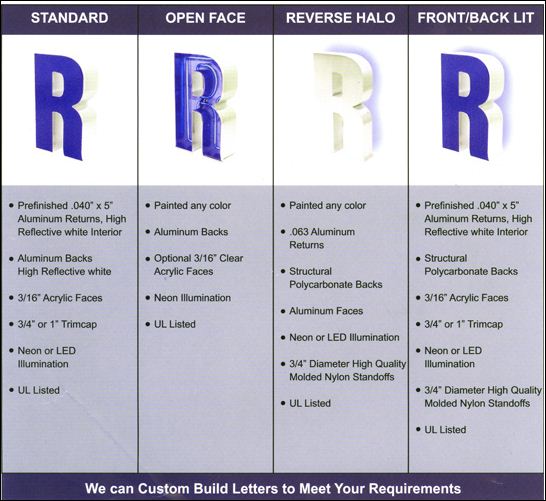 If you have any questions, please give us a call at The Sign Studio - (818) 843-9200 or send us an e-mail at thesignstudio@sbcglobal.net