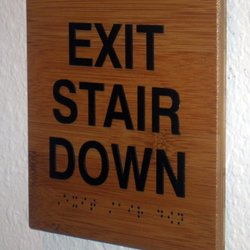 A necessary part of the wayfinding sign strategy for most offices and buildings is having the appropriate custom ADA signs for Los Angeles. Though you may just get the signage to comply with the Americans with Disabilities Act (ADA) and local ordinances, keep in mind that your ADA signage does not need to be boring.
Your company's brand and ADA compliance go hand in hand. The standard blue and white signs that are often used to satisfy these requirements are no longer an option for businesses that want to stand out. Of course, signage that follows the rules laid out by the ADA must be in any building where products and services are offered to the public, including shopping malls, museums, hospitals, restaurants, libraries, hotels, banks, and retail stores. However, not all ADA signs are the same.
ADA Signs that Match Your Other Marketing Materials
Your wayfinding signage can maintain accessibility requirements while incorporating sophisticated design when you use layered graphics, custom shapes, textures, and printed backgrounds. You can pick from a virtually limitless list of materials, such as acrylics of any color, aluminum, custom backgrounds, and wood. All of these will integrate seamlessly with the visual and tactile requirements of ADA markers. For a fully finished look, include standoffs or frames.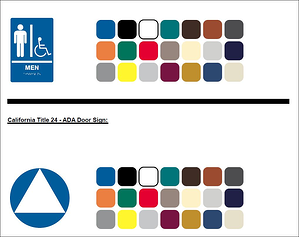 When assessing the design possibilities of your ADA signage, you first need to understand the limits and rules behind the ADA. The requirements fall into three categories. Permanent spaces and rooms have the strictest requirements. The following specifications must be met by signs that designate elevators, restrooms, room names or numbers, and exits:
High degree of contrast between the foreground and the background
Raised letters in an ADA friendly font and, in some instances, a raised pictogram
A matte, non-reflective finish on pictograms, backgrounds, and raised letters
Grade II braille
Wayfinding and directional signs do not need to have braille or raised letters. However, they do need to be high contrast and non-reflective. In addition, ADA guidelines do not need to be met by signs that change often, including room occupancies and building directories. But, this is still helpful for visitors to your building with disabilities.
We Work with the Requirements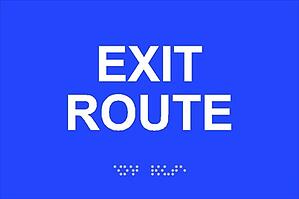 At first, these rules and regulations may sound overwhelming. Fortunately, at The Sign Studio, we have plenty of experience creating ADA signs to boost your brand in LA. If your company's typeface branding does not meet ADA regulations, we can help you find a font that both meets ADA guidelines and matches your corporate identity.
As long as there is a contrast between the background and the content, color combinations for these signs are seemingly endless. There are no rules governing mounting devices or frames. Plus, with layered signage and custom cut backgrounds, you can make a distinct impression.
Are you unsure about what ADA signs you need? No problem! We work with a Certified Access Specialist to determine exactly what you need to be legal. Contact us today for a free consultation.