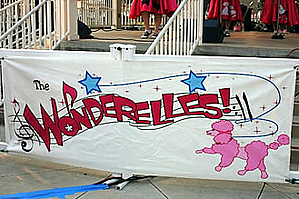 Distinctly one of a kind marketing materials pique the interest of potential and current clients while enabling you to stand apart from your competitors in today's highly competitive business environment. This is why The Sign Studio gets a lot of requests for custom banner printing. Los Angeles businesses can benefit from both digital and vinyl banners for their storefront, event, or tradeshow booth.
Vinyl Cut Banners
There are two main types of banners: vinyl cut and digital. Both have their pros and cons. For just about any budget, colorful vinyl banners can produce a huge impact. Whether in high traffic areas outside or in a busy enclosed retail area, these eye catchers are well suited for all kinds of temporary signage.
We offer dozens of standard vinyl lettering and graphic colors along with a wide array of standard banner colors. Our top quality banners come finished with grommets and hems and can withstand wet weather. We offer installation services throughout the Los Angeles area, or you can try hanging your banner on your own.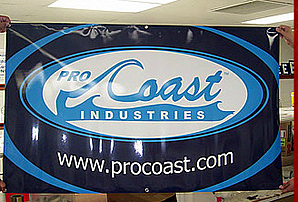 For events that only have a change of time and date each year, vinyl banners are a smart idea. For golf tournaments and other annual events, we can change out the old time and date when you bring it in. In the end, it only costs you a fraction of the price of a whole new banner.
In addition, we can make a basic banner for you if you have offices or apartments in your complex for lease. As different units become available, we can update the square footage, number of rooms, or price information on your banner.
Digital Banners
With even limited budgets, you can have a high impact promotion with large, vibrant digital banners. Add great pizzazz to the simplest banner with full color logos, background textures, and digital photos. When you want to decorate a warehouse wall long term or you need a lightweight, temporary, portable sign for a special event, these attention grabbers are perfect.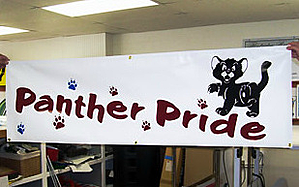 Just like with the vinyl cut banners, digital banners also come ready to hang (or we can install them professionally) with grommets and hems. They hold up well in wet weather, so they are great for interior and exterior uses.
What makes digital banners great is that the graphics are printed right on to the vinyl using our cutting edge wide format digital printers. Basically, with our custom banner printing, LA organizations can get any image rendered perfectly on top quality vinyl.
Some common uses for digital banners are
School and church events
Charity and fundraising events
Community get-togethers
Sponsorships and sporting events
Tradeshows
Our Process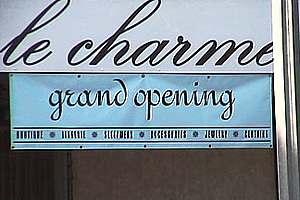 When you meet with The Sign Studio for your free initial consultation, we listen carefully to understand your vision and goals for your banner. Based upon this, we will create a design for your approval. If you do not like it, we take your suggestions and go right back to the drawing board. We keep working at it until you are happy. Once we have created a design you are happy with, we use only the best vinyl and ink to create your banner. We can then install your banner for you.
You do not get this kind of treatment when you order online or try a do it yourself system. Going with the pros will save you money and face in the long run. Contact The Sign Studio today to learn more!