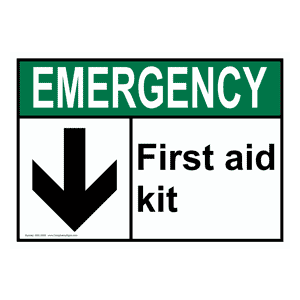 The chances are good that prospective medical dangers exist somewhere on your premises whether your organization involves warehousing, manufacturing, transportation, or professional or medical services. In fact, in 2013, more than three million nonfatal injuries occurred in private sector workplaces according to the Bureau of Labor and Statistics. It makes sense to plan ahead for medical risks with numbers like that. Fortunately, The Sign Studio has you covered when it comes to medical and first aid signs in Los Angeles.
Types of Medical and First Aid Signs
There is an endless variety of signs that can help you in medical emergencies or first aid scenarios. Some of our most popular solutions include
First Aid Station – Our first aid markers can be flange mounted to project from the ceiling or wall, or they can be surface mounted. We provide labels and signs in glow in the dark as well as standard finishes. In addition, most of what we offer is also available in Spanish and Bilingual formats.
AED Defibrillator and CPR Stations – Your company is susceptible to a wide array of accidents. You need to be sure that clients or workers can find first aid quickly. You can create a safer work atmosphere with proper signage to direct employees to CPR and AED defibrillator equipment.
MRI, CT Scan, and X-Ray – If CT scans, x-rays, or MRIs are performed in your building, you need to let people know with ANSI and OSHA compliant labels and signs. We have standard signs like "Notice: No Access to Declared Pregnant Workers and under 18 Years."
Pregnancy – You need to take special care to protect pregnant visitors to your facilities. The right warning and safety markers can achieve this. We have "Caution: Pregnant Women Should not Enter," "Warning: Universal Precautions Must Be Observed," and "Expectant Mothers Parking Only" signs plus many more.
Area of Rescue and Refuge – We produce markers that identify areas where people with disabilities can find areas of rescue assistance, accessible evacuation routes, and refuge. We supply these signs in a broad range of high-contract colors.
Severe Weather – Simple to understand severe weather signage is a must to share information on weather emergency procedures or to identify storm shelters, evacuation routes, and tornado shelters. We also provide directional arrows designed for use with these signs.
Emergency Contact – In the event of an emergency, our easy to read and durable emergency contact labels and signs will supply basic information. Plus, our emergency contact markers are available in a variety of languages, including Bilingual formats. We can even add your custom phone numbers to the signs.
These are just some of the safety sign options we offer. We can essentially produce any markers you can imagine. We often recommend businesses with a larger budget consider custom signs that incorporate their corporate branding, including their colors, logo, and font. This lends a level of authority to their signage while boosting their brand recognition.
If you are ready to get started with medical and first aid signs for Los Angeles enterprises, contact The Sign Studio today for a free consultation.