With the popularity of Amazon and other online retailers, a lot of the thought and time that goes into picking out the perfect gift has gone away. Sure, on these sites, you can get respectable gifts at a reasonable price, but is it something the recipient will truly cherish?
At The Trophy Studio, the trophy and award division of The Sign Studio, we are able to turn any item into a gift that will be remembered for many years to come. Plus, we ship anywhere in the country. Here are some of the options available when you purchase laser engraved gift sets online from us: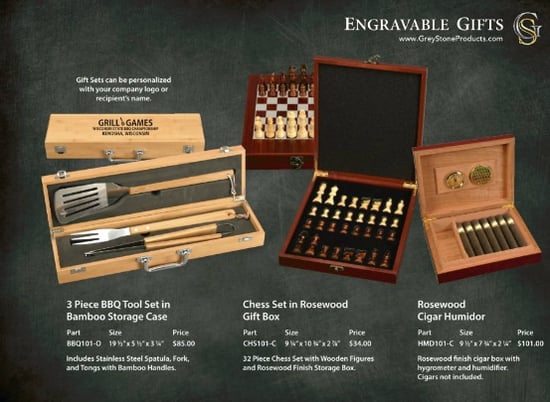 Chess Set in Rosewood Gift Box
One of our most affordable gift sets is our chess set in rosewood gift box. The 32 chess pieces are made of wood and are easily stored within the box for portability. Each piece fits perfectly into its specific black felt-lined spot. The rosewood box also has a chess board incorporated into the lid. This is the ideal upscale gift for people of all ages. We recommend adding a personal message that inspires the recipient to continue challenging their mind.
High Gloss Rosewood Wine Bottle Box
Sure, giving someone a fine wine of a great vintage is pretty classy, but if you really want to knock their argyle socks off, give them a couple bottles of excellent wine in a high gloss rosewood wine bottle box that is personalized with the recipient's name or a company logo. We offer one-bottle and two-bottle wine bottle boxes. They each come with a stainless steel wine pourer, stainless steel hippocampal knife, one cork, and a silver paper/plastic cutting knife.
Rosewood Cigar Humidor
What goes better with a fine wine than a high-quality cigar? And, what better way to present cigars than with a rosewood cigar humidor. Our humidors come complete with a humidifier and hygrometer. They make a terrific addition to the desk or den of the cigar lover in your life. We have a standard humidor that is 9.5" by 7.75" by 2.25", or we can custom make one for you.
Three-Piece Barbecue Tool Set in Bamboo Storage Case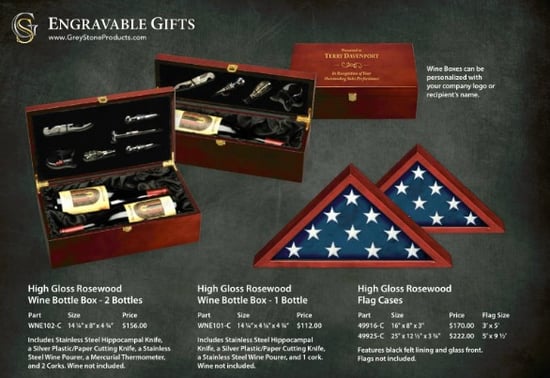 Is there a special grill jockey in your life? Or, do you have a barbecue cooking competition and are looking for the ideal trophy? Nothing beats the three-piece BBQ tool set with a custom engraved message. It includes a fork, stainless steel spatula, and tongs with bamboo handles.
High Gloss Rosewood Flag Cases
Old glory deserves to be stored properly. Whether you have a friend or family member with a special American flag, our high gloss rosewood flag cases with black felt lining and a glass front are ideal for holding any flag.
This is just a sampling of what we have available. We have other solutions available for you, or you can bring an item to us, and we will engrave it for you. Adding initials or a name to a gift is a popular option, but we are also able to add images, logos, and more.
To learn more about what specific options are available, contact the friendly professionals at The Trophy Studio today for a free consultation and quote.