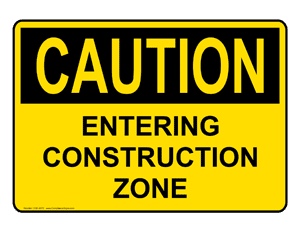 No matter what industry you are in, the biggest asset your company has is your workers. This makes keeping your employees safe and happy of paramount importance. One way to do this is by outfitting your factory, warehouse, jobsite, or other building type with the appropriate worker safety signs. Los Angeles enterprises can turn to The Sign Studio for all of their safety sign needs. We supply markers for all sorts of applications.
Types of Workplace Safety Signs
From construction to industrial settings, there are plenty of "dirty jobs" in Los Angeles that tend to be a bit more dangerous than your typical office job. These are the businesses that contact us most for signs that keep their workers safe. Some of the most requested safety signs we offer are
Construction Signs – There are a broad range of safety signs that a construction site needs. You must have information posters that point out where first aid kits and eye wash stations are. It is also a smart move to post general equipment requirements, including hard hat, safety glasses, and steel-toed boots information. Workers also need to be aware of the high voltage areas.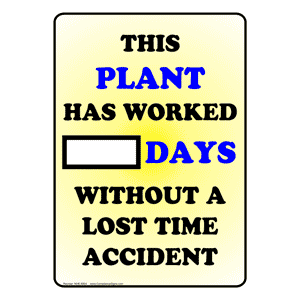 Safety Scoreboards – Also known as "days without injury signs," these markers give your workers a tangible safety goal to shoot for. They come in many styles, including easily changeable banners, electronic digital signs, and dry erase aluminum signs. These signs show that safety measures are working and bring a sense of pride to a workplace.
Hazardous Waste Labels – Glossy vinyl is used for all of the hazardous material labels we supply. To make them UV, scratch, and chemical resistant, they are covered with a clear layer of PVC. We can install these labels for you, or you can simply peel and stick them yourself with the permanent adhesive. Both economical multi-packs as well as individual labels are available.
Wet Floor Cones and Stands – You are leaving yourself open to worker's comp claims if you do not identify potential slip and fall hazards in your facility. We provide stackable cones, folding floor signs, and more to identify recently mopped areas, spills, and other wet floor hazards.
What We Can Do for You
The Sign Studio is a full service sign shop. This means that we can handle every part of the project. If you are unsure of what site safety signs Los Angeles companies should have, we will happily survey your property and make recommendations based on our extensive experience. We can also work with your budget and vision for a perfect signage solution.
If you have a little bit of extra money to work with, we can create custom safety signs that feature the branding of your company. This will help you build brand recognition. Otherwise, if you are working with a tight budget, we keep many standard safety signs in stock.
If you are ready to protect your business's most valuable asset, contact The Sign Studio today for a free consultation and quote on workplace safety signs.