The all too brief rain season is over, and we can now count on great window shopping weather for the next few months. As consumers make their way around the revitalized downtown shopping district or the Burbank Town Center, how are you going to make your business stand out? One way is with sidewalk signs for Burbank, CA. Read on to learn why your storefront cannot live without them!
Sidewalk Signs Are an Affordable Advertising Medium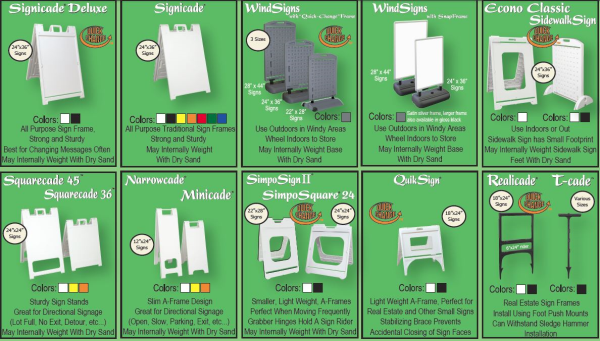 Sidewalk signs are very inexpensive when compared to other types of marketing, and your return on investment is outstanding. You just need to make certain your message comes across loud and clear with your A-frame sign. You will be able to use this versatile marker throughout the year.
Sidewalk Signs Turn Heads
Have you ever run into a one of a kind sign display in the middle of the sidewalk while distractedly wandering down the street? If you have, you likely had to stop and read it. Also, typically when this happens, the consumer then enters the store. Even if you did not enter, you probably thought about going into the restaurant, store, or other enterprise. Essentially, sidewalk signs are able to draw awareness and attention to your company and increase your profits and foot traffic.
A-Frame Signs Are Portable and Convenient

Sidewalk signs are incredibly easy to transport. It is as easy as putting your A-frame sign outside in the morning when you open up for business and bringing it back in as you close. Since they are simple to transport, many businesses opt for the classic A-frame. However, there are several other types of sidewalk signs available to suit your enterprise's needs.
Types of Sidewalk Signs
The Sign Studio is proud to be one of the top distributors of Plasticade signs in California. As such, we offer their full product line of sidewalk and A-frame signs for Burbank, CA. Here are some of their most requested items:
Signicade – Our clients can't get enough of these 24-inch wide by 45-inch tall boards. Signicades are ideal for fairs, restaurants, events, and salons. To protect the sign from the climate, there are regressed face areas.
Simpo Sign – Simpo Signs are 23 inches wide by 34 inches high, and they offer a display area of 22" by 28". These high-density polyethylene signs are durable and weigh about eight pounds. They are easy to maintain and stain resistant.
Sidewalk Sign – There are no tools needed to change out the blanks or to put together this classic sidewalk sign. These signs are about 41 inches by 31 inches and weight just over ten pounds. They take inserts made of acrylic, vinyl, metal, or just about anything else.
Quick Signs – Also made of high-density polyethylene, Quick Signs allow you to change your sign's message within seconds.
These are just some of the sandwich board signs we offer. If you are ready to really get the attention of shoppers as they meander along the sidewalk, contact The Sign Studio today for a free consultation on sidewalk signs!