City of Burbank - Open House Real Estate Sign Guidelines


REAL ESTATE SIGNAGE - Open House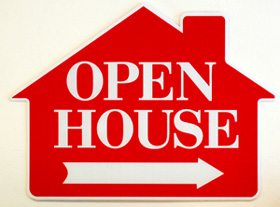 Real estate signs are an integral component of the Realtors business arsenal. They allow the agent to effectively market a property, and they serve as an important directional aide when conducting an open house. With the advent of technology, real estate signs now function in conjunction with many other marketing tools available to the Realtor. However, they retain their status as one of the most important methods of marketing a home.
Unfortunately, real estate signs can become the source of controversy in a community. If residents perceive a preponderance of real estate signs, they will put pressure on local government officials to restrict the display of the signs. Fortunately, state laws exist to protect the rights of real estate practitioners and home owners to market properties via real estate signs. The laws balance these rights with the community's need to control visual clutter and safety.
CITY OF BURBANK: OPEN HOUSE SIGN GUIDELINES
You must follow the directions contained herein and use common sense.
Signs will be picked up and destroyed if not in compliance:
Size - Total Face area no more than 24 (inches) x 24 (inches).
Height - Vertical distance from ground to highest point not to exceed 3 ft.
Can only advertise a residence in the City of Burbank.
No more than 4 signs per property on public rights-of-way
Must be on stake or A-Frame support.
Signs must be in good condition and of professional signage material.
No balloons or flags can be affixed to the sign, nor any other object that would call attention to it.
Time - Signs shall only be displayed during the "open house". Saturdays and Sundays (or federal or state holidays) not earlier than 8am and must be removed no later than dusk or 6pm, whichever is earlier. Thursdays, signs may be displayed no earlier than 8am and removed no later than 2pm.
Must have a valid PERMIT as evidenced by valid DECALS on each side of the sign. These permits must be renewed annually.
Identification required. Must have your name, address and telephone number affixed to the sign in an area not to exceed 2"x3" (Business card taped to the sign would be ideal).
It is recommended that you read the entire ordinance for other provisions not set forth on this sheet. Avoid placing signs on the new Chandler Bike path -- it is considered a median. For a full copy of the sign ordinance please contact the Burbank Association of REALTORS at 818/845-7643.
Download your Public Works Department Application/Permit - Temporary Residential Real Estate Open House Signs http://www.burbankrealtors.org/pdfs/openhousesignage.pdf
If you have any further questions or need a professional sign made, please give us a call at THE SIGN STUDIO (818) 843-9200 or e-mail us at thesignstudio@sbcglobal.net