Acrylic Signs
Acrylic signs are made of an extremely versatile plastic sheet with a glossy finish, which is also known as Plexiglas®. Acrylic is the perfect choice when you want signs with a sophisticated, high-tech look. Highly durable and available in a variety of colors, acrylic is often used for illuminated, architectural, tradeshow and point-of-purchase signs.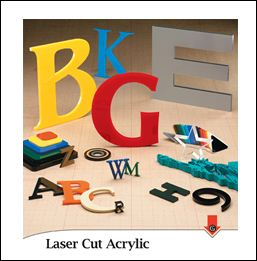 Acrylic Sign Applications
This plastic product can be heated to form many shapes. Use it to create:
• Boxes
• Brochure holders
• Signs and easels, all-in-one
• Point-of-purchase products
• Menu boards
• Tradeshow exhibits
• Retail signs
• Restaurant signs
• Nameplates and name badges
• Directional and informational signs
• Showroom signs
• Office building signs
Acrylic Sign Ideas
Increase the visual effectiveness of your acrylic signs by:
• Adding stripes and borders
• Applying multiple lettering colors
• Incorporating a logo or graphic symbol
• Using multiple layers of acrylic to enhance the image
• Creating a three-dimensional effect - giving the perception of
depth to the finished product - using clear acrylic and applying
a background color to the reverse side
• Designing custom applications
• Using bent easels
• Using non-glare acrylic to reduce glare problems

Installation
Acrylic signs may be displayed in several ways:
• Self-supporting (bent easel)
• Hanging
• Using Velcro®
• Gluing
• Using double-sided tape
• Applying suction cups
Care
• Do not leave acrylic in direct sun or in a hot car; it may bow or
bend if not laying flat
• Handle acrylic signs with care because acrylic scratches easily
and can shatter or chip upon impact
• Use acrylic signs for long-term indoor use or for short-term outdoor
use in areas protected by overhangs or awnings.
(This does not apply to acrylic used in light box signs)
If you have any questions or need further information, please give us a call at (818) 843-9200 or visit our website at www.signstudiola.com – You can also reach us by e-mail at info@signstudiola.com.