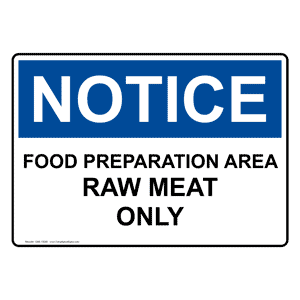 Are you having trouble making your kitchen safety and food preparation messages clear to your staff? One easy way to fix this is with commercial kitchen food and safety signs for Los Angeles. Fortunately, The Signs Studio is your top source for these markers. We have options that cover a vast array of topics for cafeterias, kitchens, and restaurants, and they are available in several different materials and sizes. Read on to learn about our ANSI, novelty, kitchen rules, food allergy warnings, food prep, OSHA, kitchen PPE, and dining room options.
Types of Kitchen and Food Safety Signs
We offer a wide variety of standard and custom markers for your kitchen. Here are some of the more popular solutions:
Food Preparation Signs – Keep your food prep and safety messages at the forefront of everyone's minds with these signs. We supply signs that denote prep areas that only contain cooked food, vegetable and salad, fruit and salad, raw food, raw meat, cooked meat, raw fish, vegetables, dairy, bakery, or others.
Food Handling and Hand Washing – Get your hygiene and food preparation messages across with these signs. They are not only great for restaurants but also school, hotel, church, factory, and office cafeterias and kitchens.
Kitchen Safety – It just takes one accident to bring your kitchen to a halt. Most businesses cannot afford this. However, with the right precautions, you can save a lot of headaches. Kitchen safety signs remind workers to not cut corners when it comes to safety.
Kitchen Personal Protective Equipment – Are there specific items that all kitchen staff must wear? Make them aware of it at all times with the appropriate markers, including "Apron Required," "Hair Covering Must Be Worn," and "Gloves Must Be Worn when Doing Food Preparation" signs.
Novelty Signs – Do you run a kitschy establishment that likes to keep things lighthearted? If so, you can enhance your branding with novelty signs. Some favorites include "Harassing the Cook Will Result in Smaller Portions," "Danger: Man Cooking," and "If You Can't Stand the Heat, Stay out of the Kitchen" markers.
Allergy Warning Signs – It is your responsibility to keep your diners safe from any allergy causing food products you may have on hand. We offer signs letting people know that your food may contain peanuts, dairy products, eggs, shellfish, gluten, soy, or other products.
Dining Room Signs – There are certain signs that you are required to post in dining areas. We are well-versed on local ordinances and can make sure you are up to code. We supply maximum occupancy signs, "No Shirt, No Shoes, No Service" markers, and much more.
These are just some of the commercial kitchen food and safety signs for Los Angeles that we provide. If you do not see what you need above, we are more than happy to create a custom marker for your organization. We can even incorporate your company logo, name, and colors into your signs to help with your branding.
To get started, contact The Sign Studio today for a free consultation and estimate!