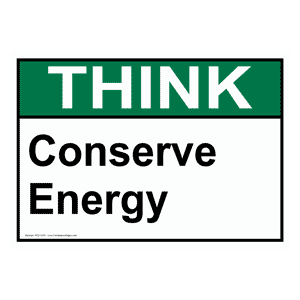 Making a positive impact on the environment is something that all businesses and people have the potential to achieve. To help you motivate employees and visitors to do their part and demonstrate your commitment to being green, The Sign Studio offers a wide selection of environmental signs for Los Angeles churches, offices, restaurants, schools, workplaces, and more.
Types of Recycling Signs
The variety of environmental and recycling signs we offer is too numerous for us to list them all here. Here are some of the ones we get the most orders for:
Energy Conservation – Get your environmental message across with energy conservation signs. You can lower your electric bills and help preserve natural resources with these simple to understand markers. Some of the solutions include "Think: Conserve Energy," "Please Turn off Lights when Not in Use," "Idle Free Zone: It's the Law," and other signs.
Recycled Water – Identifying areas where recycled water is in use is important for the safety of those around. You can warn people with the use of recycled water and water conservation signs that let passersby know not to drink the unsafe water.
Trash / Litter – Our easy-to-read dumpster, waste management, and trash labels and signs are made in the USA. They are available in an array of sizes, materials, and styles and include ANSI, standard, and OSHA formats. These markers are the ideal way to remind guests not to litter as well as informing them of dumpster rules.
Recycling Signs – We offer surface mount, engraved, and braille recycling signs. They are a must for identifying recycling areas and instructions. We have standard markers for recycling everything from printer cartridges, aluminum cans, and paper to yard waste, batteries, and plastic. Directional arrows point the way to recycling receptacles.
Recycling Labels – These labels are also used to identify collection areas and recycling bins. These labels are cost-effective, durable, and easy to apply. You just peel off the backing and stick it where you need it. They are typically used to label which bins are for which materials, such as cans, glass, paper, waste, and so on.
Alternative Fuel Vehicle Parking and Charging – As more and more consumers choose electric vehicles, more companies are catering to patrons who may need a little juice as they shop. If you have these charging stations, you need to make it clear that only electric vehicles can park in these areas. You can do this with our wide array of alternative fuel vehicle parking and charging markers.
Non-Potable and Potable Water Signs – Direct visitors to water sources that are suitable for drinking and other uses with these signs.
In addition to offering the above signs and much more, we also provide custom signage. Custom markers are a great way to showcase your branding. This also adds a level of authority to your signs. If you are interested in learning more about environmental and recycling signs for Los Angeles, contact the friendly experts at The Sign Studio today for a free consultation and quote.