Do you manage a building that has a constantly changing list of tenants? Or, are the rooms in your facility always changing their function? Do you just need a professional way to identify different rooms and suites? Euro sign systems are the ideal way to address all of these signage challenges. Today, we are going to take a closer look at these affordable interior signs for facilities in Los Angeles.
What Are Euro Sign Systems?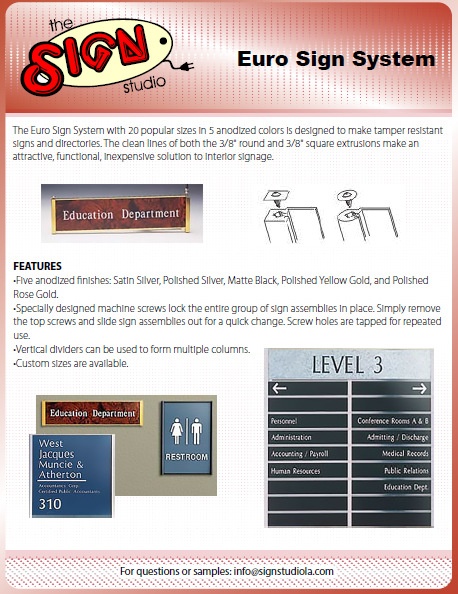 Euro sign systems consist of a metal frame and individually routed sign inserts that are typically made of some sort of durable plastic, such as acrylic or PVC. At the top of the assembly, there are round or square-headed screws that are specially designed to cap off extrusions and lock in the insert holder. To quickly change the information featured on your sign, you just remove the top screws and slide the sign assemblies out.
Euro sign systems come in twenty standard sizes and five anodized colors: yellow gold, satin silver, bright rose gold, matte black, and bright silver. These directories and signs are designed to be tamper resistant. And, the clean lines of the square or round extrusions make for a functional, affordable, attractive alternative for indoor signs.
How Are Euro Sign Systems Used?
Euro sign systems can essentially be used anywhere you need an interior sign. We often get requests for this signage solution for the following uses:
Directories – Any property management company that operates a building with a revolving door of businesses can benefit from using routed signs and Euro sign systems to keep their directories current. We can have new inserts ready for you the same day you let us know that you have a new tenant. We are also able to incorporate suite numbers and other information into these markers.
Suite Signs – Directories can tell visitors where they need to go, but in order for them to know they have found the right place, suite signs are a must. These are just as easy to update as the directories. And, with our routing capabilities, we can include whatever information you want in your new marker.
ADA Signs – The Americans with Disabilities Act requires you to have certain signs in your building. We are well aware of the regulations for signage and can recommend Euro sign systems that will help you meet the standards.
This should give you a good idea of what is possible with Euro sign systems. We can customize any routed signs to match your unique branding, including matching your company colors, fonts, and incorporating your logo.
Are you unsure about whether our cost-effective interior routed signs for Los Angeles are right for your enterprise? No problem! When you call the friendly professionals at The Sign Studio, we will listen carefully to what you have in mind for your venue. We then work with your budget, vision, and venue to produce a number of recommendations for you to choose from. Once you are happy with the art proofs, we get down to work fabricating and installing the signs.
If you are interested in learning more, contact us today for a free consultation!