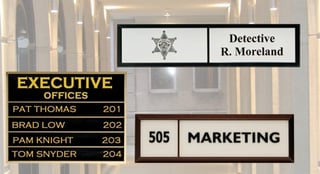 Laser engraved wall signs bring class and sophistication to your office. These kinds of custom markers are growing in popularity among all kinds of businesses and other organizations, including hotels, schools, property management companies, hospitals, government buildings, and more. And, thanks to our recent purchase of a state of the art laser engraver, The Sign Studio can provide your enterprise with laser engraved wall signs for Los Angeles.
Laser Engraved Wall Sign Options
We are experts when it comes to custom laser engraved signage. We offer a wide range of engraved signs in a broad array of colors and materials, such as plastic, metal, brass, glass, and more. Here are some of the ways that laser engraved wall signs are used in an office setting:
Directories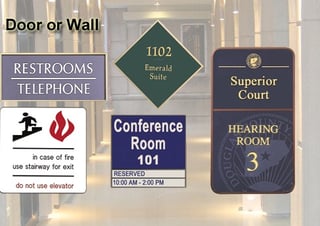 Once we install a frame system near the entrance to your building as well as by the elevators on each floor, you can easily update the directories with laser engraved inserts featuring the names of different departments, businesses, and professionals. This saves on the cost of buying a whole new sign, and we can usually have a new, affordable insert ready for you within hours.
Room Identification Signs
Identify the offices of your top executives with laser engraved nameplates. These nameplates can easily be inserted into or removed from fancy, metallic frames when a new person takes over the position. You can also identify different meeting and conference rooms within your facility. Braille can also be added to make these signs ADA compliant.
Amenity Signs
Whether you want to show guests where the restrooms are or you need to direct the way to the nearest emergency exit, laser engraved wall signs are the right solution for your venue. Our engraver can replicate a wide range of fonts so you can keep your branding consistent with your signage.
Wall Plaques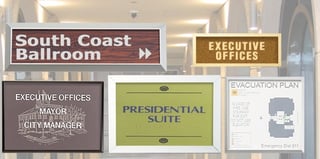 Are there certain donors, sponsors, founders, or other people who have played a significant role in making your organization what it is today? Commemorate these contributors with engraved wall plaques displayed in a prominent area in your facility.
Our clients choose to go with engraved signs because they are rigid, lightweight, and flexible. They are available in many different thicknesses. And, we can install them for you quickly and with little disruption to your workplace.
We Can Have Laser Engraved Signs for You in No Time!
Are you working with a tight timeline? No problem! Our new laser engraver allows us to have fast turnarounds. Once you approve of the final design, we can have your marker ready for you in as little as one or two business days. Some engraved signs are easy for anyone to install. However, we are happy to install the more difficult markers to make sure they are properly aligned to look their best.
If you are interested in learning about how to put custom laser engraved wall signs for Los Angeles to work for your enterprise, contact the friendly professionals at The Sign Studio today for a free, no-strings-attached consultation and quote.