What can I do with Floor Graphics, Clings and Decals?

Floor graphic advertising is a unique way to put your message in front of and under current and potential customers.


If you advertise in a supermarket, convenience store, exhibit hall or airport, you're constantly battling other posters and signage for awareness. Why not try something unique, something that will make you stand out from your competition? With point of purchase floor graphics from The Sign Studio, you'll have a unique tool to capture your customers' interest and encourage a call to action.
Customers tend to look down as they push shopping carts or wait in line to purchase their selections and a floor graphic, or decal or cling, is an easy, cost-effective way to grab their attention. It's especially valuable in driving last minute or impulse purchases. In fact, floor graphics can increase these purchases by 10%!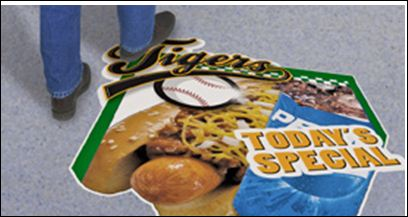 The Sign Studio has been producing and printing custom floor graphics for years. We understand the industry tricks, including bold graphics, strong messaging and die-cuts, to get your floor graphic noticed. Plus, we have the printing capabilities that make your graphics durable and long-lasting, so you can reach your most important customers day after day.
Contact The Sign Studio today to discover how and what we can do for you in an effort to increase your visibility in today's competitive marketplace. The Sign Studio - (818) 843-9200 or e-mail info@signstudiola.com