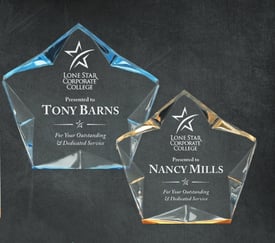 An excellent way to recognize employees and organizations for their hard work, length of service, and innovations, while inspiring others, is with corporate achievement awards. These are usually given out each year at banquets, parties, or other events. Fortunately, The Sign Studio is one of the top providers of laser engraved corporate achievement awards in Los Angeles. Let's take a look at what we can do for your next corporate event.
Types of Corporate Achievement Awards
With the help of our state of the art laser engraver, we can make engraved awards out of just about any material. You should consider the following solutions:
Metal Awards – When you want to project longevity and professionalism, metal is your best option. This makes it perfect for recognizing workers' decades of service or for other lifetime achievement awards. Our engraver is able to put your message on metal, but we typically suggest including a wood monument base with a plaque acknowledging the recipient. Metal awards are available with many different finishes in an array of colors.
Crystal Awards – Crystal is a smart alternative when only the best will do. We offer a selection of shapes and sizes to pick from. There are also black, gold, blue, and other colored bases. We are sure to offer something that complements your business's branding. Crystal awards can be engraved with your enterprise's logo along with your custom message. These fancy awards even come in a lined presentation box.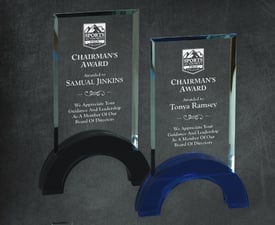 Acrylic Awards – Acrylic is the way to go if you are trying to keep your costs down. These awards are virtually indistinguishable from glass or crystal. Plus, there is a range of fun effects we can create with acrylic thanks to its versatile nature. You might want to consider the Spectra series of acrylic laser engraved awards. They come in several sizes, are mostly clear, and have gold or blue hues throughout the piece. Another cost-effective solution is custom engraved acrylic paperweight awards.
Glass Awards – At a more affordable price tag than crystal, you can get many of the same options with glass engraved awards. Most of these pieces also come with a distinguished presentation box. Glass awards come in curved rectangle, wavefront, scallop circle, diamond, and star shapes to name a few. There are also several different monument base alternatives, such as rosewood.
We Are Your One-Stop Awards Shop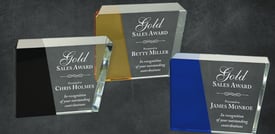 The Sign Studio has you covered whether you are looking to recognize employees for outstanding sales and customer service achievements or you want to celebrate the contributions of your vendors, partners, sponsors, donors, other organizations, or anyone else. We listen closely to your vision for your project when you contact us. Then, based on your goals and budget, we make our recommendations. Before we even get started, we supply you with mockups of what the finished awards will look like. Lastly, we deliver your awards on time.
If you are interested in recognizing the hard work of organizations and employees with corporate achievement awards in Los Angeles, contact our friendly experts today for a free consultation.