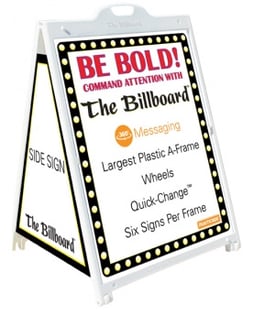 For over 60 years, Plasticade has been a leading manufacturer of products that help companies grow. They have been so successful because their sign frames offer safety, promotional opportunities, and comfort for consumers and businesses alike. They also focus on developing processes that make their signage sustainable. This is why The Sign Studio is proud to carry Plasticade Sign Solutions for Los Angeles.
What Does Plasticade Have to Offer?
Though just about any enterprise can benefit from the sign frames Plasticade supplies, retailers will especially find their line of products helpful. Here is a sample of some of the bestsellers:
Signicade – The classic Signicade comes in seven different colors and can receive metal, plastic, or vinyl sheeting sign blanks. There are also miniature versions that work great on tables or countertops as point of purchase signs. Acrylic cover sheets come with the unit to keep paper signs clean.
Wind Signs – Do not let the wind dictate who can and cannot see your message. With wind signs, your marker will never blow over. You just fill the base with water or sand. Springs attach the sign to the base and return it to an upright position.
Sidewalk Sign – Sidewalk signs can display two messages at once on each side of the unit. This is an affordable and heavy duty option that can be stored easily. To deter theft, there are molded in tie down holes for chaining or wiring the base.
Econo Classic – This A-frame sign is one of the most inexpensive ways to display your sales, promotions, or other information. A stabilizing brace prevents closing of the sign face as well as adding a spot for a securing sandbag or other weight.
Message Boards – These corrugated plastic (coroplast) A-frame message boards come with tracks permanently attached and an indexed box for letter storage. The letter set contains more than 300 numbers and letters plus "SPECIAL" and "SALE" headers.
Marker Boards – These come in A-frame and single panel varieties. You can write your own message using the set of five neon wet erase markers that come with this unit. Plus, the markers can stand up to rain or other liquids without rubbing off. Instead, it comes off with glass cleaner.
And the list goes on.
The Sign Studio Carries Plasticade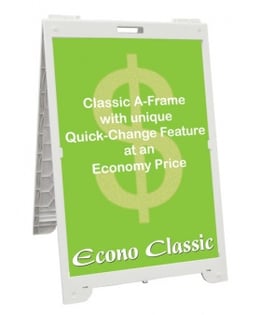 Whether you need yard signs or A-frame and sidewalk signs, Los Angeles businesses can turn to The Sign Studio for Plasticade signage. We take their sign frames and customize them for your purposes. With the Quick-Change technology, you can change out your message by just sliding it in, and it stays securely in place. There is no need for adhesive. Plasticade provides you with the frame, and we supply you with the inserts. We can custom print your message on any material. We can even include your company name, logo, and colors to help with your brandings.
Are you ready to learn more about Plasticade sign solutions for your business? Contact The Sign Studio today for a free, no string attached consultation.