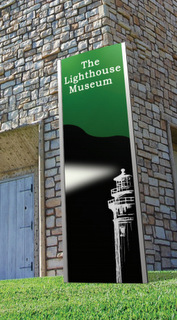 Freestanding signs are typically used to increase visibility near entrances or for wayfinding purposes. There are several kinds of freestanding signs, from architectural aluminum wayfinding sign systems to road signs or simple pavement signs. In addition, they are commonly used as point of purchase (POP) signage in malls and stores, especially near the checkout.
The Benefits of Vista Systems Freestanding Signs
Freestanding signs can be hanging from the ceiling, have 3D images, be mounted next to the cash register, or have post based aluminum sign frames. The options are virtually limitless. This entry will go into the factors we consider when recommending signage and will give you an idea of the versatility of Vista Systems signage for Los Angeles.
Appearance
The overall appearance of a sign must be taken into consideration if you want it to have a maximum impact. We can help you choose the right pictures, text, special effects, graphics, and fonts to communicate your message. Size is equally important. It is crucial that you pick a size that is appropriate for how far away readers will be standing. Finally, the right colors must be selected to make the message stand out. Vista Systems can be customized to fit any appearance.
Durability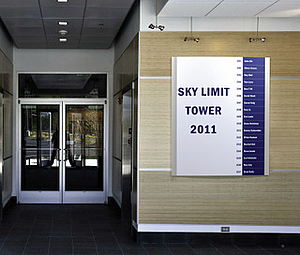 How a sign is going to be used will determine the level of durability that is needed. If a sign is only going to be used for a few days leading up to a holiday, then less expensive materials can be used. However, something more heavy duty is needed if the sign is going to be exposed to the weather and needs to last for years. We have options for every need.
Quality
It is our job to come up with signage alternatives that match your demands. This is why we go with Vista Systems freestanding signs. Los Angeles businesses can get a high quality sign that meets their budget constraints and gives their business a professional appearance.
Purpose
Vista Systems signs can be changeable or constant. Consequently, if you would like to use the same sign frame to promote different sales events throughout the year, we would recommend a durable, high quality freestanding sign with different inserts for each of your promotions. On the other hand, wayfinding signs rarely change. This would call for a more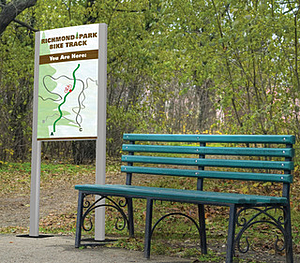 permanent solution.
Portability
One of the great benefits of freestanding signs is their portability. With minimal effort, you can swiftly transport signs throughout your business. If portability is not necessary for your needs, we can bolt down your sign, so it will stay put and last longer. However, if portability is important to you, we have many wider-based options that are extra sturdy.
When you contact The Sign Studio for freestanding signage, we schedule a free consultation with you to figure out what your vision and goals are for your signage. Once we have a good understanding of the specific factors for your project, we can make a recommendation that is right for you. Then, with your approval, we create and install the perfect marker for your business.
If you are ready to get started, please contact us today!