Do you run a large business with dozens of employees? How do people know who is whom? An excellent way to help your workers locate their colleagues and to improve communication is with laser engraved name badges for Los Angeles. Even if you have a smaller enterprise with just a few employees, it is helpful for visitors and clients to know who they are dealing with. Fortunately, thanks to the addition of our new laser engraving equipment, The Sign Studio is your premier source for name tags. Check out some of the options we have to offer:
Custom Logo Badges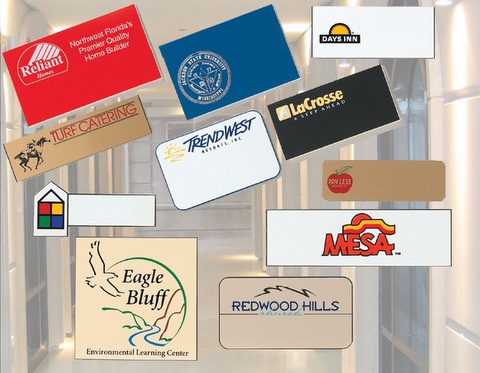 We can create the best quality engraved name badges available using our high-resolution, state of the art laser system. We are able to offer name badges at a lower price now that we have our extensive manufacturing abilities. We supply a broad array of engraving materials and will imprint your custom logo on all of them. We will then engrave each badge with a representative's name. As customers look at your employees' name tags, they will be exposed to your branding.
Badge Frames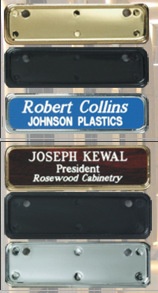 Badge frames are an excellent way to give your tags added durability. Each of the frames accommodates an engravable insert. These injection molded frames come in attractive shiny silver, matte black, or shiny gold to name a few. This will add a level of sophistication to your tags. With the badge frames, there is also a variety of fastener options, including strap clips, pocket slides, standard pins, adhesives, swivel clips, and premium magnetic fastener, one of the most popular solutions.
Metal Badges

Brass, stainless steel, copper, and brass are the most requested metal badge types that we offer. We take pride in making certain each of our clients get exactly what they want from start to finish. We laser-cut each of the badges to your specifications and can handle orders both large and small. Metal badges are ideal if you work in an industrial setting or if you just want to project an image of professionalism and longevity.
Metal Badge Frames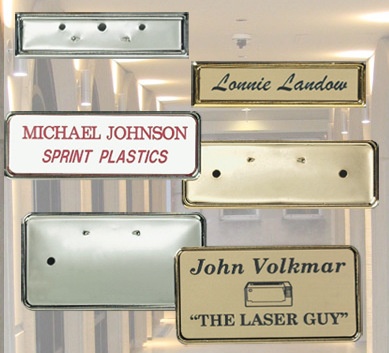 Engravable inserts as thin as 1/32" fit in the lightweight solid metal badge frames. There are both clutch back and pinback alternatives. 18 Karat gold plating is used for the gold frames. Imitation rhodium plating is used for the silver frames. There are various sizes available to pick from.
This should give you an idea of what we are able to produce for your enterprise. We believe in providing our clients with custom solutions. So, if there is something that you have in mind, just try us! The chances are good that we will be able to make your vision a reality. For instance, we are able to produce custom sizes and shapes using our innovative laser cutter. This will catch eyes and show that your organization pays attention to details. We do this even without a minimum order. Essentially, your special request is our command.
For a free consultation on laser engraved name tags for Los Angeles, contact the friendly experts at The Sign Studio today.