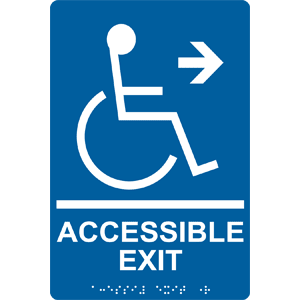 Each exit in your building must be clearly visible and marked by an exit sign according to OSHA standard 1910. In addition, the exit routes must be appropriately marked and lighted. Keeping this in mind, the smart move for any organization is to invest in protecting your business as well as your employees by installing entrance and exit labels, decals, and signs. Thankfully, The Sign Studio is your premier destination for exit and entrance signs for Los Angeles buildings.
Types of Entrance and Exit Markers
Our list of entrance and exit offerings is seemingly endless. However, here are some examples of the standard signage we supply:
ADA Braille – In addition to OSHA requirements, you are also supposed to have markers that meet the standards set out by the Americans with Disabilities Act (ADA). Fortunately, we are the leading suppliers of ADA-compliant braille signs in designer and standard colors. These signs are typically made of acrylic and feature a variety of messages.
Glow-in-the-Dark and Electric – To meet your installation needs, glow-in-the-dark and electric exit signs are available in an array of styles. They are durable and attractive whether they are acrylic tactile with braille or are constructed of sturdy aluminum. We have stair markers, lighted exit signs, obstacle strips, emergency lights, and more.
Automatic Doors – Surface-mounted automatic door labels and signs are simple to understand and long-lasting. Self-adhesive labels, sturdy aluminum, magnetic backing, and inexpensive plastic are among the many different materials we offer.
Emergency Exit – In the event of an emergency, these signs and labels direct people to safety. There is a variety of mounting methods to make sure they are easily readable. Some of the options we offer include "Emergency Exit Only: Alarm Will Sound if Opened" and "Emergency Exit: Keep Area Clear at All Times."
Evacuation and Assembly – Muster point assembly and evacuation signs assist in directing people out of a building and to safety. They are also a must for keeping evacuees organized once they are out. These markers identify emergency information, escape routes, and gathering locations.
Roof Access – In the confusion of trying to find an exit in a hurry, visitors to your building may accidentally stumble upon doors to the roof. In rare instances, this may actually be the best exit available to them. Either way, it is important to label roof access points and whether they are a sufficient emergency exit.
Floor Labels – Permanent acrylic adhesive is included as part of our durable floor labels. You just remove the backing strip and place these markers where you need them. There are several sizes and styles, and they are all easy to see.
And, the list goes on. We even provide custom markers. For these, we recommend incorporating your branding into your signage. This is an excellent alternative for enterprises that have a little extra money to spend, want to lend a level of authority to their signs, and who want to boost their brand awareness.
Are you ready to get started? Contact the friendly professionals at The Sign Studio for a free consultation and quote on exit signs for Los Angeles buildings.