If you have been reading our blog lately, you know that we have gone gaga over our new laser engraving capabilities. We are already creating a wide array of custom items for individual and corporations alike, including jewelry, pens, pendants, flashlights, awareness bracelets, awards, wine bottles, and just about everything else. Today, we are going to take a closer look at laser engraved key chains and laser engraved license plates for Los Angeles.
Laser Engraved License Plates Give Your Car Character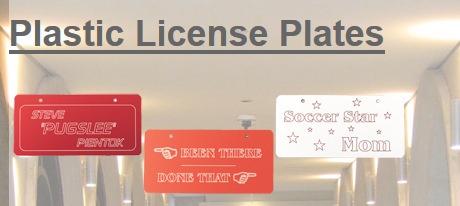 We offer a broad range of personalized license plates. From car logo designs and completely customized plates to sports teams and your favorite themes, we can do just about anything. One popular option for those who love to travel or just want to showcase their European roots is European plates. We produce these authentic-looking plates using .032 aluminum.
Our laser cut license plates are of the highest quality and can feature whatever text or logos you want. We get many requests for these from fraternities and sororities. In addition, we are able to imprint any artwork or photos directly to a plate from any image file you supply us with.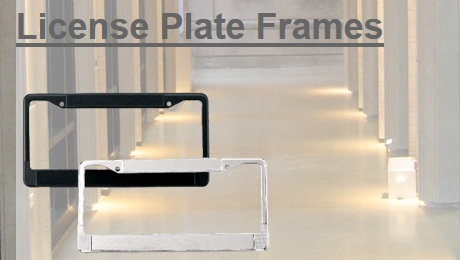 Laser engraved license plate frames also give your vehicle a distinguished look. Standard chrome frames are a favorite for engraving. They are made of black matte, bright gold, or chrome plated die cast metal. If you want something a little more durable, solid brass frames are the way to go. Additionally, there are a variety of promotional advertising plates and frames we can design and fabricate. These are ideal for schools, auto dealers, corporate giveaways, organizations, clubs, and more. When you choose high-quality frames, they will boost your brand awareness for many years to come.
Laser Engraved Key Chains Make Great Giveaways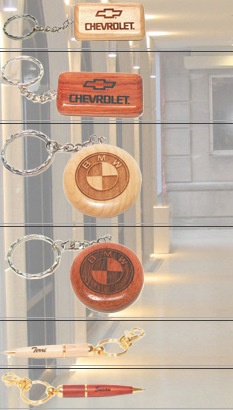 Another must for any auto dealership, repair shop, car rental company, or gas station is custom laser engraved key chains for Los Angeles. When clients drop off their keys, you simply slip one of your key chains onto their key ring before returning the keys. When they have car troubles again, your name and number will literally be at their fingertips. Though most of the key chains we design are rectangular, we are able to produce custom shapes using a variety of different materials.
We can supply your organization with light key chains, coated floating key chains (great for marinas), carabiners, brass key chains, photo key chains, lanyards, and bottle openers. All of these are great options for corporate gifts for clients or employees. When you order in bulk, we can typically offer you a better deal. This will leave you with plenty of giveaways for your next trade show or event.
Are you unsure about what the best solution is for your purposes? No problem! Our friendly professionals will listen closely to your vision during an initial consultation. We can then make recommendations that are specifically tailored to your needs.
If you are interested in learning more about our laser engraving abilities, contact The Sign Studio today for a free quote.