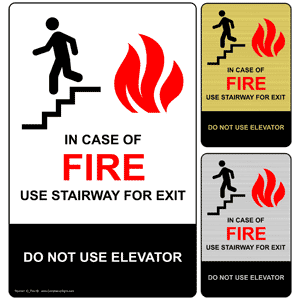 More than 570 million people ride on escalators and elevators every day in North America. Safety rarely crosses the minds of these passengers. However, one good way to reduce exposure is for business owners to take a proactive approach when it comes to elevator and escalator safety. This is why it is critical for organizations that utilize these people moving machines to have signs that remind maintenance employees and riders of proper procedures as well as give fire safety directions.
Fortunately, The Sign Studio has a broad range of safety signs for elevators in Los Angeles. With National Elevator Escalator Safety Awareness Week coming up the second full week of November, it is the perfect time to outfit your equipment with the proper cautionary markers.
Varieties of Signs for Escalators and Elevators
We offer just about any safety sign that you can imagine. Here are some of our most requested alternatives:
In Case of Fire – Your elevators are unsafe to run in emergency situations. To make guests and workers aware of this, we offer Triflame and In Case of Fire labels and signs. We provide English and bilingual solutions. There is also a variety of colors along with Braille.
Elevator Plates – Your custom letters or numbers are featured on our colorful acrylic elevator car plates to indicate stops or floors on the elevator car's operating panel. To help people with vision impairments, we incorporate Grade 2 Braille.
Elevator Capacity, Car ID, and Inspection Plates – We offer maximum durability and premium appearances with these sublimation-printed aluminum plates. We have several standard colors and can customize the plates with your specific information.
Inspection Code Plates – Identify the correct codes for tests and inspections with these inspection code plates. We have standard plates from the 1921 standard all the way up to the current version. Or, we can include your custom information on a plate.
Emergency Operation – In case of a fire, emergency operation signs will help first responders act quickly. You will find the plate you need in our wide selection of emergency operation instructions for main stations and cars.
Freight Elevator Signs – Display maximum load weight, general rules, and load class with these freight elevator markers. We have standard signs that say "This Elevator Designed for General Freight," "Freight Elevator No Passengers," and "Passengers Are Permitted to Ride in This Elevator."
Escalators – Our broad array of escalator safety signs give instructions on pinch points, using handrails, and more. They include warnings about attending to children, avoiding sides, not having bare feet, facing forward, and other precautions. We have materials to fit any budget.
These are just a few of the options we have available. In addition, we offer custom signs that feature your unique corporate branding, including your logo, company colors, and font. This lends a level of authority to your markers while helping build brand awareness.
If you are interested in learning more, contact the friendly professionals at The Sign Studio today for a free consultation on safety signs for escalators in Los Angeles.