If you have seen the movie Office Space, it is hard to forget the character Milton. This hapless worker is incredibly concerned about lending out his office supplies for fear of never seeing them again. In particular, he is often heard asking coworkers, "Have you seen my stapler?"
We cannot help but wonder if Milton's life would have proceeded more smoothly if he had found The Sign Studio or our trophies and awards division, The Trophy Studio. We could have provided him with laser engraving services to ensure his name was on all of his office products, so no one would mistakenly take off with them. Fortunately, we are here for you with custom engraved desk sets in Los Angeles. Let's look at what is available.
Rosewood Desk Clock & Card Holder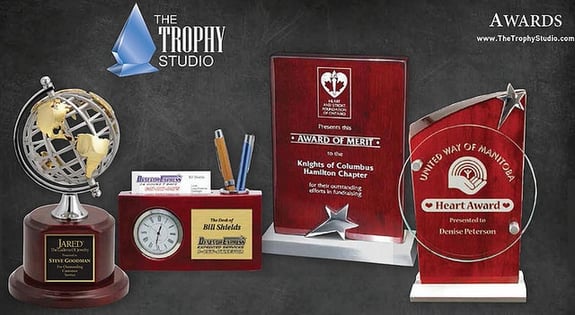 Every office desk can benefit from our rosewood desk clock and card holder. This piece is made of high-gloss rosewood and features a distinguished analog clock along with business card and pen holders on the top of the product. There is also room for us to add an engraved plaque that can recognize an employee for their service or give that new self-employed loved one a supportive message.
It is also currently the season for dads and grads. Give grads a fitting present that they can take along with them on the next stage of their journey. Or, show dad that you care about him every time he looks up from his work.
Rosewood Desk Plaques
Rosewood provides a professional, distinguished look to any desk. That is why we use it for many of our desk sets. We have two main types of desk plaques. The Metal Star & Rosewood Desk Plaque is a high-gloss rosewood plaque with a brushed metal base that features a polished metal star. We engrave the plaque with whatever message you want.
We also offer the Regent Glass & Rosewood Desk Plaque. Once again, this features a high-gloss rosewood plaque, brushed metal base, and polished metal star. In addition, there is a glass plate on the front mounted with spacers. We engrave the glass with whatever information you want. These plaques are ideal for awards for individuals or businesses. And, with our state of the art laser engraver, we can put whatever information you want on your plaques. For instance, we can engrave your company logo to show off your branding to anyone who sees the plaques.
Give us a call even if you have something in mind that is not mentioned above. There is a good chance that we can make your dream a reality. We are talented at custom designing desk pieces using a broad range of materials. And, we can render any text or graphics you want on just about any material. Our graphic designers can provide you with proofs of what your finished item will look like before you commit to anything.
If you are interested in procuring custom engraved desk sets in Los Angeles, contact the friendly experts at The Sign Studio today for a free consultation.