Brand Your Business On A Budget With Metal Letters From LA Sign Co

READ ALL ABOUT THE DIFFERENT METAL SIGNS TO BRAND YOUR BUSINESS

Fabricated metal signs and logos offer businesses an opportunity to brand within a budget. In today's financially viable climate, it's important to have a professional, outstanding logo and sign to represent your business. It's just as important to stay within budget. The Sign Studio has been assisting small and large companies throughout California for many years. The Sign Studio has been designing and manufacturing different custom high quality signage within budgetary constraints to accommodate all of their Customer's needs.

Because we only use the best materials during the manufacturing process, we deliver quality metal signage with a Lifetime Guarantee while they are on your building - interior and exterior.
Materials
The Sign Studio uses a variety of different materials to fabricate all of the metal letters and signs. We largely use solid metals like aluminum, bronze, copper and stainless.

Aluminum – Because it works well with many different finishes like polished,
satin or antique brass and chrome, this gives our clients a high-end, solid metal look.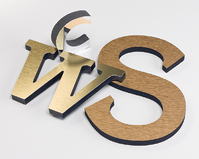 Genuine metal sheets – This process allows us to cut these sheets and laminate them
onto acrylic or PVC plastic. This offers the beauty of real metal at a fraction of the weight and costs.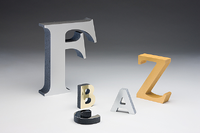 Foam with Metal Overlay – On the progressive edge of sign technology, foam offers a depth that metal cannot. A foam sign can be carved up to 2 inches deep and into any
logo or lettering with metal overlay sheeting on top.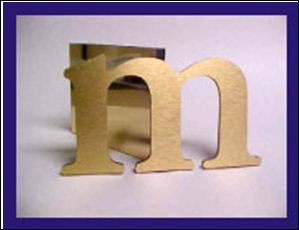 Acrylic with Metal Overlay – Another option for metal signs is acrylic with metal overlay. Metal adheres to the face and presents the solid metal look without the solid metal cost.


Solid metal – Last but not least, solid metal is the highest standard in custom signs. It
is cut and finished to your exact specifications. We are able to treat the
signage for interior or exterior use to ensure a Lifetime Guarantee against any
fading or defects while it is on the interior or exterior of any building in
any weather conditions.
Our Process
We have the ability to finish our metals to create a wide range of looks. We can give a sign a satiny appearance with polished edges. Finishes like swirling and antique-like rusting are also
available. All of our aluminum and metal signs have a clear coating to ensure a Lifetime Guarantee.
Most Common
Questions When Ordering Your Sign
Where will the sign hang? Interior signagewill need a different finish than exterior signage. The lighting and space will also affect the design.
What type of sign is it? A sign with a complex logo rather than simple lettering may require a particular material, finish or process.
If you already have a logo or design prepared, this will be easy. If you don't, do you
have any pictures of sketches of other signs you liked or are thinking of? From color Pantones to fonts to logos, The Sign Studio can use any insight or ideas and make it perfect for your business from concept to finish.
What size do you need? What you envision may be more or less than you need. The Sign Studio can discuss the space where the signage will be hung and help you to come up with
the perfect size for your business and your budget. You can also download our Visibility & Color Chart to review.
If you have any questions or need assistance with anything, please give us a call at The
Sign Studio (818) 843-9200 or send us an e-mail at info@signstudiola.com. From Concept to
Finish The Sign Studio is here for you – On time and on budget!