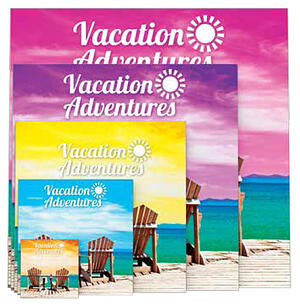 Trade show season is already in full swing, which has many businesses scrambling to come up with a plan for their exhibitor's booth. Some companies will try to use the same tattered old banners and table throws they have been dragging out of storage for years. Unfortunately, shabby trade show displays will not cut it. Instead, make your booth pop this year with hot, new Vector Frame poster displays for trade shows in Los Angeles.
What Are Vector Frame Poster Displays?
Three-quarter inch lightweight aluminum extrusion is used to create the Vector Frame Edge fabric poster displays available at The Sign Studio. The graphics are rendered on easy to apply, push-fit fabric. For semi-permanent or permanent hanging in any environment, the frames come with simple wall mounting hardware. In addition to trade shows, the Vector Frame Edge is perfect for use in restaurants, retail environments, and high traffic spots, like office buildings and malls. Plus, the graphics and hardware for this display option are made in the United States.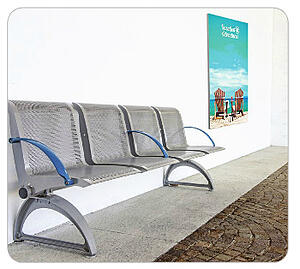 There is a Vector Frame poster display solution for any space with the four standard rectangular sizes, five standard square sizes, and custom sizes available. The standard rectangular sizes range from 11.8 inches by 23.62 inches to 23.62 inches by 47.24 inches. The standard square sizes are 11.8 inches long on each side up to 59.06 inches to a side.
Common Uses for Poster Displays
Vector Frame Edge poster displays are versatile enough to have a big impact in a variety of settings. Here are some of the more common uses for this display option:
Trade Shows – Most people use Vector Frame poster displays for trade shows in Los Angeles. This is because they do a great job. With a small budget, you can create an eye catching display with two large Vector Frames on either side of your booth. They can be used to introduce displays of your products or services. Vector Frames are essentially the "bread and butter" of trade show displays.
Wayfinding – Use Vector Frames to help attendees to the trade show or conference find you. If you are new to an event and are stuck with a booth far away from the entrance, guide people to your exhibit with a Vector Frame featuring your company logo and name along with an arrow leading the way. It is effective, affordable, and creates a professional appearance.
Table Top – If your booth features a folding table or other table top space, you can quickly create a backdrop with your company and product information with Vector Frames. With virtually no facility requirements, you have a big display in no time. This is great outside of trade shows as well.
Lobby Signs – Eventually the trade show season will be over, and you will have a beautiful Vector Frame poster display that you are just going to throw in storage. Not so fast! Vector Frames also work great as lobby or reception area displays between trade shows. They brighten up your lobby while building your brand.
Are you ready to give your booth a little pizzazz this trade show season? If so, contact The Sign Studio for the latest in trade show products.