Nothing inspires pride and a feeling of accomplishment quite like a trophy. Whether you want to honor the players on your junior sports team at the end of the year or you would like to recognize employees who have done an exceptional job, The Sign Studio has a wide array of unique trophy awards in Los Angeles. To get an idea of what we can do, here are some unique offerings:
Blue Water Glass Art Awards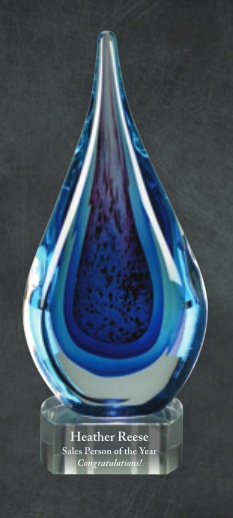 Skilled artists can do amazing things with glass. The Blue Water Glass Art Award is no exception. It is designed to look like a big, blue drop of water mounted on a glass base. They come in three sizes: 8" x 3.5", 10.5" x 4", and 11.5" by 5". This is the perfect award for enterprises or individuals who have made significant contributions to improving our environment.
Crystal Venice Bowls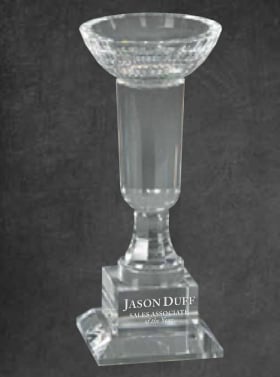 Venice Bowls made of crystal are the ideal way to show appreciation. These pieces are made entirely of real, clear crystal. The design features a bowl on a pedestal mounted to a base. All of our crystal awards include a lined presentation box. There are three sizes available ranging from 9" x 4" x 4" to 12.25" x 5.5" x 5.5".
Circle Teamwork Bronze Resin Award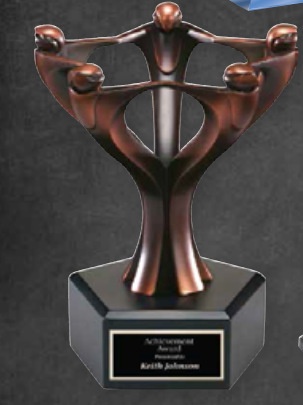 This metal statue trophy is a surprisingly affordable way to show your appreciation for a work group or team. It consists of five people holding hands to form a star when viewed from above. They are made of bronze finish resin and are mounted to a black hexagon base. These trophies come in one size: 8" x 4.75".
Red Fire Glass Art Awards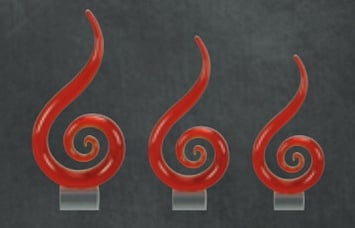 If you are looking for another glass art option, the Red Fire Glass Art Award is a smart choice. It consists of a red glass spiral that extends up, like a flame, and is mounted to a clear glass base. This comes in three sizes: 11" x 5.125", 13" x 6", and 15" x 7". We would recommend this piece for a broad range of industries, including fire protection, food service, and design.
Resin & Acrylic Eagle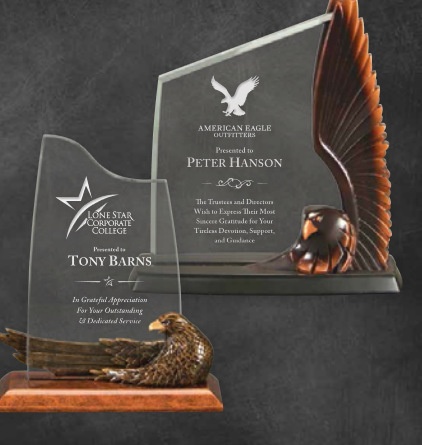 When you are working with a budget, acrylic is your best option. The Resin & Acrylic Eagle is one of our fancier options. It consists of a clear engraved panel held in place by a partial eagle statuette. As with all of our trophies, we can custom engrave any messages, names, or logos you want on this trophy award.
The Sign Studio is skilled at coming up with awards that are ideal for your situation. When you call us, we listen closely to your goals for the project. We then make recommendations based on your budget and vision. We provide you with art proofs of what the finished trophies will look like before we even begin. We will also deliver your awards to you in a timely manner.
Contact our friendly professionals today for a free quote if you are interested in recognizing the achievements of athletes, workers, organizations, or anyone else with laser engraved trophy awards in Los Angeles.