Glendale & Pasadena Sign Company | Sign & Banner Font Design
"What is the perfect font for your sign?"

Since you asked there is really no answer to this question. It's a question we get a lot at The Sign Studio. Truly a question like that has to be answered on a case by case basis. It's like asking what is the perfect color for the outside of my house? The simple answer is white walls and black trim and shutters. There are no simple answers in life. Can you imagine driving through a neighborhood where all of the houses were decorated with white walls and black trim and shutters? Creepy right?
Now imagine that only one of those houses in that neighborhood was painted a nice tan with beige trim and a red door. That house would really stand out next to all the other houses. That's what you are looking for in a font a way to stand out amongst all the other black and white houses.
More importantly you need to find a way to stand out and get your message across concisely and as quick as possible about who you are and what you do. You only have the viewers attention for a very small amount of time before the next shiny thing grabs their attention. Here are two things that I think help when trying to consider what font to use.
What am I trying to say? Who am I trying to reach?
Say you run a bridal company. You are going to want a font that will reflect what it is you do and with its look you want it to give your name a look that will reach people. In this case it will have to have a gentle sophisticated feel to it. It's a bridal company and not a plumbing company after all. Those are two different looks. See below...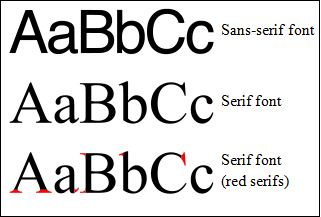 Which looks better? See the difference? It's something to think about...
If you have any questions or need further assistance with anything, please give us a call at The Sign Studio (818) 843-9200 or send us an e-mail at infor@signstudiola.com