Drive Your Sales With Quality Signs & Banners - The Sign Studio, LA
Do you need more business? Is your client base dwindling, in need of a drastic overhaul or just needs to increase? Are referrals and other marketing techniques not permitting customers to provide you with the necessary sales to increase your profits exponentially? Well, the solution to your problem may be the exciting, innovative and customized signage The Sign Studio creates.
One of the best ways to drive sales dollars at any business is to market in a manner that is consistent with the standard of quality and expectations of the company. The Sign Studio uses high quality techniques and services that will take your business to the next level. With innovative, thought-provoking and eye-catching graphics, your business will be given a dynamic, visual platform that will drive sales. The Sign Studio provides a myriad of signage that can be customized to meet the needs of any business. State of the art techniques are implemented to provide the highest quality signs & banners. Custom creations are readily accessible as well in the form of graphic design. From banners to site signs to window graphics to vehicle graphics and monument signs, one or all of these types of signage can be created and utilized to advertise your business.
The Sign Studio will provide your business with the catalyst it needs to drive sales and increase profits. Place your order today!
If you have any questions or need assistance with anything, please give us a call at The Sign Studio (818) 843-9200 or send us an e-mail at info@signstudiola.com.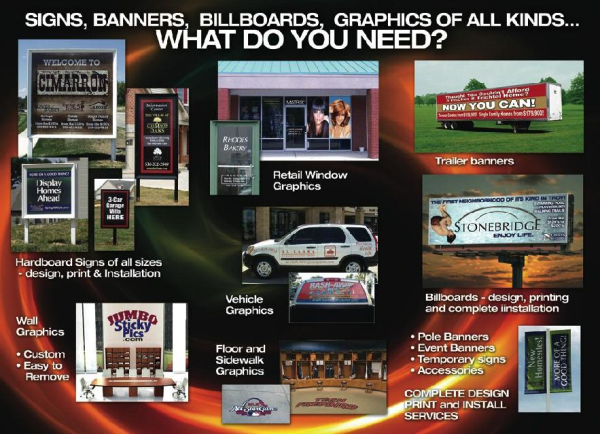 The Sign Studio also produces, manufactures or supplies the following items. Please call (818) 843-9200 or e-mail us at info@signstudiola.com
for sample pictures or further information / Quote.

Vinyl Banner Adhesive Vinyl Indoor Stands
Vinyl Banner (blockout) Adhesive Clear / Translucent Outdoor Stands
Vinyl Banner (backlit) Adhesive Window Perf Lightbox
Mesh / Super Smooth Vehicle Graphics / Wall Graphics Sidewalk Signs
Window Static Cling Floor Graphics Poster
Magnets Premium Vinyls Signicades
Paper Posters Reflective Vinyls Plasticades
Scrim Banner Metallics / Gold / Silver Retractable
Printable Fabrics Chalk Vinyls Post & Panel Signs
Photo Paper Parking Signs
Overlaminates Simpo
Sign Frames
Pedestal Sign
Wind Spinners
Real Estate Frames
Trade Show Displays

RIGID SIGNS

Foamcore
Coroplast
PVC Board
Aluminum
Alumalite / Econolite / Signolite
Dibond
Acrylic
Styrene
Lusterboard / Omegaboard / MDO
Romark / Lasermark
Stencils
OTHER SIGNS

ADA Signs - Restroom / Handicap
Parking Signs
Regulatory Signs
Construction Signs
Acrylic Displays
Golf Signs
GEMINI Products
Vista Systems

The Sign Studio also provides maintenance and service calls on all signs. We proved service to the following areas:
Los Angeles, West Hollywood, Hollywood, Studio
City, Century City, Santa Monica, Culver City, Burbank, Pasadena, Glendale,
Tarzana, Woodland Hills, Anaheim, Arcadia, Alhambra, City of Duarte, West
Covina, El Monte, Toluca Lake, Universal City, La Crescenta, Whittier, Buena
Park, San Fernando, La Canada, Cerritos, City of Lakewood, Glendora, Compton