Sign Studio LA is Proud to Be One of Vista Systems Top Dealers in California! Vista System, a world leader in modular Wayfinding sign solutions.

The Sign Studio is one of the top California dealers of Vista System products. Vista System provides some of the most innovative and useful sign products on the market today. They are a global leader in sign solutions.
The latest offering from Vista System is a new sign concept called Modular Curved Frame Technology (MCFT). This concept was developed by sign professionals who have utilized their wealth of experience to meet their goal of combining the benefits offered by modular sign systems with the benefits of custom designed signs. MCFT makes it possible to harness the advantages of modern modular systems while retaining customization.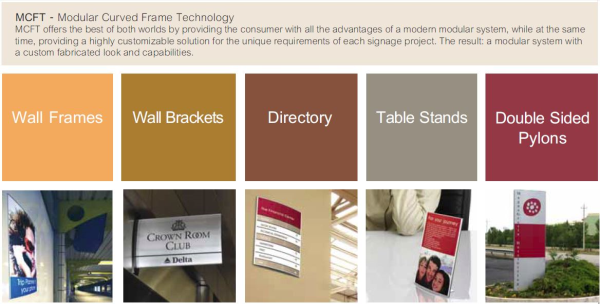 Vista Systems produces a variety of directional signs. These signs include projecting signs, table stands, directories, double sided pylons, post pylons, suspended signs and triangular pylons. All of these signs are produced with the use of the state-of-the-art MCFT.
The Vista System was designed as a great way to hold and display signs. There are all sorts of variations that they offer to consumers. These sign holders serve a very important purpose. People need a way to display their signs. Maybe they want to display them on a table. Maybe they want to display them on the wall. Wherever they want to display their signs, they are sure to find a good-looking solution from Vista System. This is a company that only uses the best materials. They use polymers, plastics and all sorts of metals. These are sturdy sign holders that are sure to stand up to wear and tear. People do not need to worry about displaying their signs in rough places with the Vista System. These displays will not break or wear down. They are tough and secure.
These sign displays are flexible. People can use them for all sorts of different signs. They can hold signs made of different materials. Vista System has a solution for everyone. The Vista System was designed by professionals who know from experience that signs come in all different shapes and sizes. They have used this knowledge to create flexible, customizable display options that will work for anyone. Users do not have to be sign experts. These are easy to use solutions to common problems.


There really is no reason to wonder why the Sign Store is selling so many of these great products from Vista System. All of the products that have been offered from this company are top of the line. However, they do not rest on their laurels. They continue to innovate and come up with new solutions to the common real world problems that face people on a daily basis. These are quality products that will stand the test of time.
A sign can be very useful. They can be used in business meetings. They can be used to attract customers. They can be used to communicate safety and health information. The uses for signs are almost endless. However, people always need to have good, secure frames that they can use to display these signs in the proper areas. A sign frame that's meant to be used on a table will not work very well for a sign that is being displayed on the wall. This is the reason that it's so great that Vista System offers such a wide variety of signs. Everyone can find exactly the right steady and secure frame for the signs they need to display in their proper locations.
Anyone who wants to find a nice display for their signs should stop by The Sign Store and check out the different Vista System products they have to offer. Or send an e-mail to Info@SignStudioLA.com for more information or a quote. You can also reach The Sign Studio by calling (818) 843-9200.