LA Sign Co | How Important and valuable signage is for your business!
For any business to succeed, the most important thing is that potential customers know that they are there. In one way or another, this is done through advertising. There are several ways to advertise. You can produce a television or radio commercial, take out an ad in the newspaper, put in a listing in the newspaper, encourage existing customers to "tell their friends," or you can put up a sign. Of all these methods, it turns out that putting up a sign is the most effective.
What exactly is the value of signs for your business? According to a survey conducted by the U.S. Chamber of Commerce on how people learn about the places where they shop, half indicated that it was the sign that brought them to the door. Word of mouth comes in second with approximately a third of customers learning about a business that way. TV and radio each only had a 1% influence, and signs cost far less. When it comes to effective signs, there are two important takeaways here. You need to get customers in the door, and you need to get them talking
Effective signs do three things. They inform potential clients about you business, direct them to take a closer look at what you have to offer, and contribute to the sales of your businesses products of services. At The Sign Studio, our staff can help you achieve all three of these objectives.
The Sign Studio was first established in 2004 by Chris Ramirez who still owns the business today and personally oversees the production and installation of every sign.
The other part of the equation is working with a regular team that is both trustworthy and very good at what they do. This is exactly what Chris Ramirez has found in his Marketing Specialist, Julie Ramirez and Bill Bates, The Sign Studio's Art Director.
Julie and Bill work closely with one another and with customers to help assure that they have just the right sign for their business. As Art Director, Bill applies his "awesome" design skills toward the creation of many different types of signs including window and vehicle graphics, menu boards, banners, yard and digital signs, Ready-To-Apply graphics and lettering that customers can apply to signs as they see fit, as well as signs that comply with ADA regulations.
.
Julie takes Bill's skill and creativity and brings it home to the client. By using sign making systems and techniques that are state of the art, Julie is able to keep the process of creating high impact signs that are not only cost effective for customers, but also drive in business.
Both Julie and Bill work closely with clients and get to know them well in order to determine the best direction to go as each sign is produced.
The Sign Studio serves the Greater Los Angeles area. To inquire about how our signs can improve your business, fill out our simple online form and get a quote today.
For further information or inquiries, please call us at (818) 843-9200 or send us an e-mail at Info@SignStudioLA.com.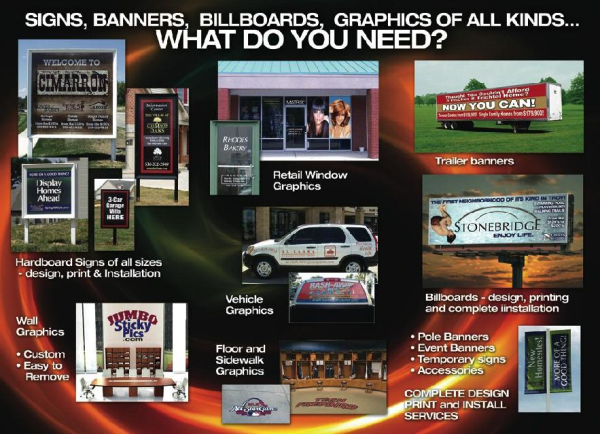 The Sign Studio is a full service sign company. We provide everything from logos, banners, digital prints to electrical signs. Sign Contractor's for electrical signs, permits & planning. Sign repair & maintenance. Large format digital printing, banners, vehicle graphics and more!!! We specialize and carry all stock ADA Tactile/Braille Signs and make custom ADA sign also. We stock all parking and handicap signs and will have them ready for pick-up or ship out.