If you plan on marketing at trade shows in the near future, you will need awesome trade show displays for Los Angeles to highlight what your company has to offer and to grab the attention of potential clients and customers. How well your business does at a trade show is determined by how good your exhibit is. Fortunately, The Sign Studio is here to help.
We get all of our trade show offerings from the Exhibitors' Handbook. Consequently, we have a comprehensive assortment of displays that work well for any event, trade show, or for anywhere else you need to get attention. In this entry, we will cover the must-have display options.
Banner Stands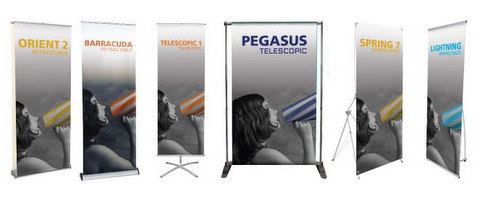 We have a broad range of banner stand options and choices. Depending on your budget, we offer mid-range, economy, and premium stands. And, the three main types are telescopic, spring back, and retractable. Of these options, retractable is most popular. The standard features are designed to offer durability, ease of use, and reliability. These stands usually come with a five year to lifetime hardware warranty and a canvas carrying bag for easy portability.
Table Throws & Runners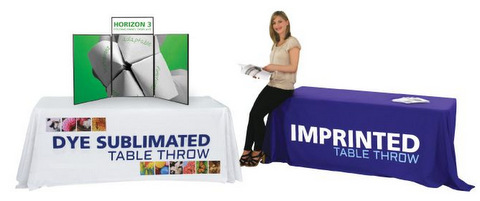 These are perfect for displaying your message at any event or tradeshow outdoors or in. We offer stretch, printed, fitted, convertible, and imprinted alternatives. And, our sizes range from four foot economy covers to eight foot full throws. Plus, the throws and runners come in 21 vinyl colors or eleven fabric colors. Do not pass up a branding opportunity by having a bare table at your booth.
Zoom Tents

If your booth is outdoors, then you cannot go without a Zoom tent. These tents open up to a base size of about ten feet square, which fits about five people comfortably. Best of all, it is easy to transport, since it comes with a compact roller bag. We can custom print your logo or other vinyl lettering on the canopy that comes in five standard colors (white, black, red, grey, and blue.) Whether it is raining or the sun is beating down, the Zoom tent protects against the elements.
Coyote Popup Display Systems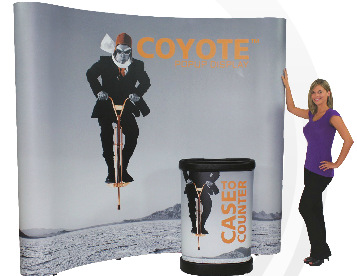 A Velcro receptive or graphic fabric back wall is offered with this fully magnetic popup display system. Coyote popup displays are heavy duty, portable, simple, and multifaceted. Monitor mounts, case to counter conversion kits and graphics, and shelves are among the numerous accessory options in the Coyote line. These displays are an affordable way to make a huge impact.
Orbital Express Truss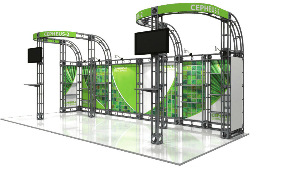 When it comes to trade show graphics for the 2015 expo season in Los Angeles, you will be hard pressed to find anything that grabs as much attention as the Orbital Express Truss. Setup is easy and does not require tools: just twist and lock. Plus, using the same parts, you can configure these truss kits in a number of different ways. This allows you to vary your booth configurations and sizes and have a different exhibit for each show.
It is not too soon to prepare for the 2015 expo season. If you would like to get ready now, contact The Sign Studio today for a free consultation and quote on trade show displays.