We have discussed metal plaques and their many uses in this blog before, but we have never touched on the versatility of wooden plaques…until today. Custom wooden plaques in Los Angeles are an excellent choice for honoring employees, donors, sponsors, and others. And, they are great for use in any indoor environment. Today, we are going to take a closer look at these awards.
What Are Wooden Plaques?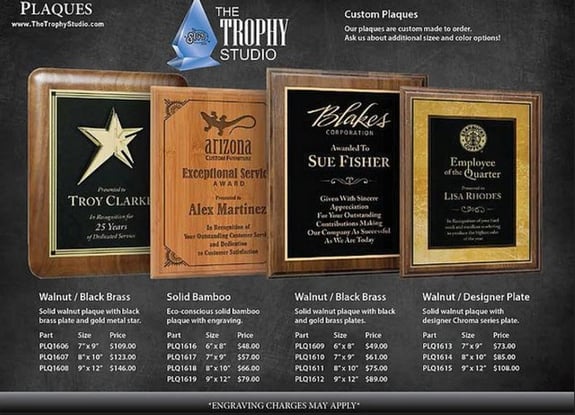 Wooden plaques consist of rectangular blocks of wood that are about half an inch thick and feature engraved faces. Plaques can be made from a variety of different types of wood. They also come in different sizes, colors, and finishes. Each plaque features holes on the back for easy mounting.
Wooden plaques are generally presented to individuals or businesses that have gone above and beyond. For instance, we get plenty of requests for plaques that recognize workers' many years of service, exceptional work in a specific field, Employee of the Month, and more. Organizations also present wooden plaques to their top suppliers, vendors, or for special designations within a certain community.
If you run a nonprofit, art gallery, or museum, wooden plaques can serve a range of uses. You can show your appreciation for your donors and sponsors by displaying their names in an elegant way. Wooden plaques can also be used to identify different permanent exhibits and pieces.
Types of Wooden Plaques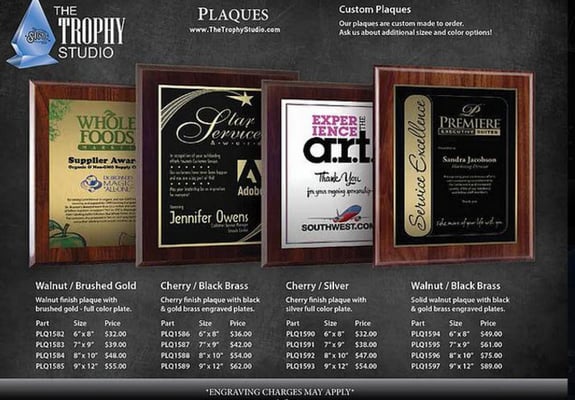 Our plaques are custom designed to order. If there are specific colors or sizes you want, we can make it happen. Here are some of our most requested wood plaque alternatives:
Cherry / Black Brass – This cherry wood finished plaque comes with a black and gold engraved plate. As with most of our plaques, the standard sizes are 6" by 8", 7" by 9", 8" by 10", and 9" by 12".
Walnut / Designer Plate – This plaque is made of solid walnut and features a designer plate that gives it a distinguished appearance.
Solid Bamboo – If you are looking for a green alternative, solid bamboo plaques are an eco-conscious option.
Cherry / Silver – This cherry finish plaque with a silver plate is one of our most affordable solutions.
Walnut / Brushed Gold – Another cost-effective plaque is this walnut finish piece with a brushed gold plate.
Walnut / Black Brass – There are several different styles of this walnut/black brass alternative, including one that incorporates a gold metal star.
This is just a taste of what we have available. If you have something else in mind, please call us to see if we can make it a reality. Thanks to our state of the art laser engraver, we can engrave all of the plaques we offer with your custom message. We can even incorporate your business's colors, logo, and fonts, so you will boost your brand awareness wherever the plaque is displayed.
If you want to buy custom wooden plaques online or over the phone, you can contact The Sign Studio today to get started. We can help you out even if you are working on a tight timeline!