Just about all public buildings in Burbank are required to have adequate accessibility and ADA signage. This includes signs in your parking lots as well as outside of your building and in. Fortunately, we are the top supplier of ADA and accessibility signs Burbank has to offer. We have the most innovative and highest quality portfolio of products to help your business meet the regulations set out by the Americans with Disabilities Act (ADA) along with the stringent local ordinances. Plus, we can create custom solutions for any job thanks to our fabrication process.
Here are some ADA and accessibility signs that you may not have considered for your enterprise:
Rescue Area Signs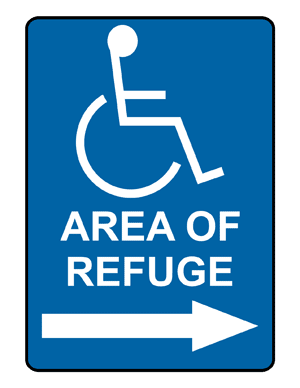 These are also known as "severe weather signs." They are used to direct people of different abilities to safe areas. These simple to understand markers share information on weather emergency procedures as well as identify storm shelters and evacuation routes. We also have area of refuge signs where those visitors to your building with disabilities can wait for assistance in an emergency.
Pool / Spa Lift Signs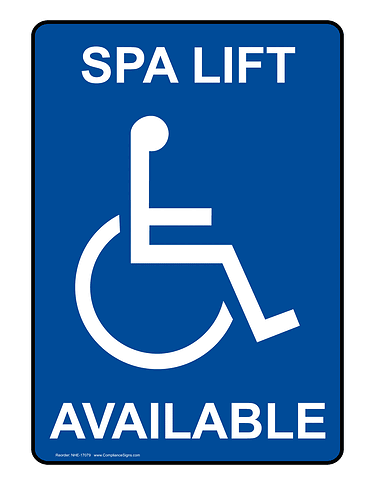 Pool / spa lift signs state instructions and rules for using ADA required pool lift equipment. According to the ADA Standards for Accessible Design, which went into effect in 2012, swimming pools must have more than one accessible means of entry. This includes at least one sloped entry or pool lift. Spas must have a pool lift, transfer wall, or transfer system. This signage helps those with disabilities access these amenities.
Service Animal and Pet Rules Signs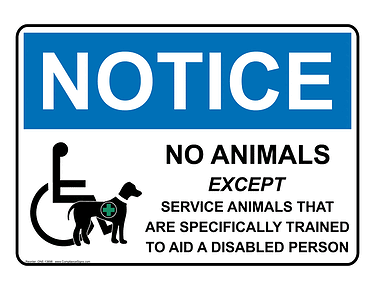 The ADA requires organizations and businesses that serve the general public to let those people with disabilities bring their service animals into all parts of a building where customers and other patrons are allowed. Not all pets are service animals. With the appropriate signage, you can make it clear that service animals are welcome but that other pets are not.
California Title 24 Restroom Signs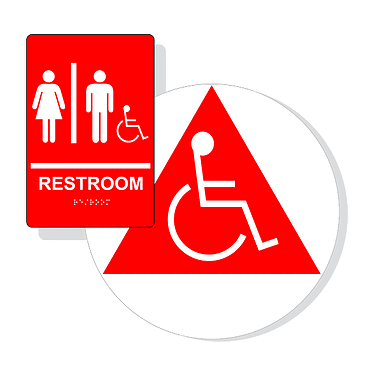 California imposes tougher regulations on businesses than the ADA does. For example, it requires that doors leading to men's bathrooms have an equilateral triangle that is a quarter inch thick and has edges of twelve inches long. Women's bathrooms must have a circle with similar dimensions. We are well versed on the CA Title 24 requirements and can outfit your establishment accordingly.
And Many More…
Here are some other signage alternatives that we also supply:
Medical and Pregnancy
ADA Braille Restroom Signs
Parking Accessibility
Accessible Facilities – ADA Braille and Engraved
Accessibility Assistance
ADA and Accessibility Signage for All Industries
Whether you are looking for specific OSHA stickers, Braille restroom signs, custom or general labels or signs, or accessible parking signs for your company, The Sign Studio will help you save money and time. All of our ADA and accessibility markers are manufactured in the United States and made from high quality materials. We have a comprehensive line of durable headers and application specific signs with Spanish, English, and bilingual language alternatives.
Are you ready to make your facilities more welcoming for people of all abilities? If so, contact The Sign Studio to get started with a free consultation!