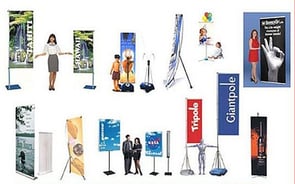 To catch the eyes of prospective customers and showcase what your business has to offer, you will need outstanding discount trade show banners for Los Angeles as you market at conventions and other events in this season. The quality of your exhibit will determine how well your enterprise does at a trade show. Thankfully, The Sign Studio is here to help you look your best!
The Exhibitors' Handbook is the source for all of our trade show offerings. That being the case, we have a wide selection of products that work well for trade shows, conventions, and anywhere else you need to get attention. For today's blog post, we will take a closer look at affordable Spring Back and Telescopic banners.
Spring Back Banners
Economical Spring Back banner stands combine functionality, reliability, and basic design features. With these banners, there is a 90 day hardware warranty, and it comes with a basic carrying bag for easy portability.
The Spring Back banner stands can accommodate graphics up to 78 inches high and 35 inches wide. They are simple for one person to set up on their own. Once you choose from the many cost effective banner stands we offer, we will design a banner that highlights your brand, product, or services and that is ideal for your purposes, whether you attend trade shows on a weekly basis or just need something for a one-time event.
Telescopic Banners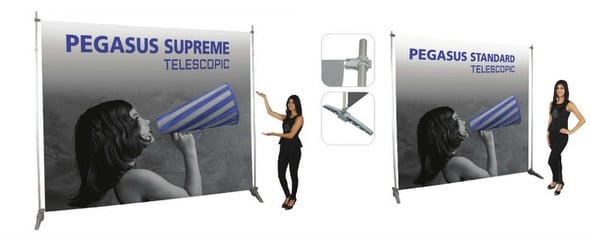 Standard Telescopic banner stands have customary features that offer durability, ease of use, and reliability. Most of these stands have one-year hardware warranties and come with a canvas carrying bag to make transportation simple. The name "Telescopic" is a reference to the telescopic pole incorporated into the design that allows you to adjust the height or width of the stand. There are three main types of Telescopic banner stands:
Uno – These stands accommodate graphics between 64.5" and 88.5" tall. The powder coated black base is weighted. And, the Uno has a new graphic rail that accepts both push fit fabric graphics and standard vinyl graphics. The Uno comes in widths of 31.5", 35.5", and 48".
Trio – The Trio is 31.5 inches wide and can be adjusted to be 28.75" to 84" tall. It has a tri-pod banner stand and works great for single and double sided graphics. These are available with three pockets that can be used for dispensing literature.
Pegasus – The Pegasus line has adjustable heights and widths and comes in silver and black. The Pegasus Supreme will help you really make an impression with its adjustable width of 63.5" to 117.5" and height of 82.75" to 120.5". You can link multiple units for an even larger display.
All of the above options are great solutions for businesses that are working with a tight budget yet still want to make a huge impact at their next trade show or convention. If you are interested in economic trade show banners for Los Angeles, contact us today for a free, no strong attached consultation and quote.