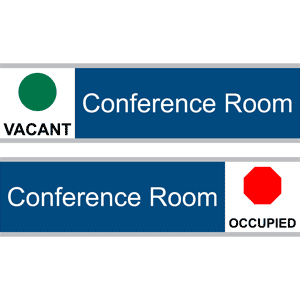 If you do not have the right office signs in your Los Angeles area business, you will likely have a lot of confused visitors at best and potential lawsuits at worst. This is because affordable office signs for Los Angeles not only help guests find their way around your building, but they are also required in many instances by the Americans with Disabilities Act. Fortunately, The Sign Studio is here to help you out.
Types of Office Signs
We offer all kinds of office signs, but here are the markers that we get the most requests for:
Room Name Signs – Identify key rooms in your church, office, school, or workplace by installing these simple to understand room name signs on walls or doors. Our selection includes OSHA, ANSI, and standard signs. We can even mount them for you.
Alcohol, Weapon, and Drug Free Signs – Make visitors and employees aware of your policy on weapons, drugs, and alcohol on your property. Among the markers we offer are "Drug Free School Zone," "All Applicants Are Screened for Drugs," school property rules, and other related signage.
Sliding Room Signs – Show that a room is occupied or vacant with the plastic signs that can slide easily left and right in a twelve-inch bracket. Complement your interior design with a gold or silver mounting bracket finish. This is the ideal solution for restroom facilities or doctor's offices.
Texting and Cell Phone Labels and Signs – It seems like just about everybody has cell phones or smart phones these days, but few people notice when it is inappropriate to be using them. You can gently remind them with a cell phone and texting sign from our large selection.
Business Hours Signs – We can produce business hours signs to match your organization's personality. We can installed vinyl lettering on your front window or door. Or, you can choose from printed or engraved markers. We even have light-up signs that show that you are open.
Payment Policy Signs – Talking about money can be awkward, especially in a professional office setting. You can help smooth out this part of doing business using stylish engraved signs. We provide an array of sizes, mounting options, and colors. Topics include expected payment, debit and credit cards, co-payments, and cash. They are great for retail, dining, medical, and hospitality locations.
Customer Service Signs – Are there certain questions that clients are constantly asking your receptionist? Wouldn't it save time and take some of the load off of your receptionist if you posted signs with this information? We provide markers that say "No Appointment Necessary," "Guests with Reservations Are Given Priority," "Please Show Receptionist Your Insurance Card when You Check in", and more.
And, these are just a few of our top solutions. We can make custom office signs for Los Angeles that feature your unique branding, including your company logo, colors, and fonts. Best of all, we can do it all on a tight timeline.
If you are ready to learn more, contact our friendly professionals today for a free quote and consultation on office signs.