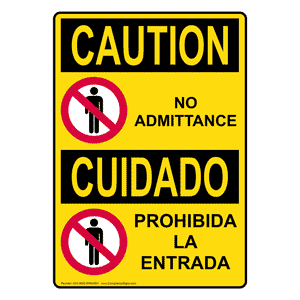 A main consideration you should have as a business owner is the demographics of the people you are serving. This helps you pick the right products to fit your clients' needs. Signs are constantly used to relay messages to your guests, customers, and workers in and around your organization. These messages clarify directions, improve the experience within your building, and they can even save lives.
To ensure your message is clear, you pay careful attention to the words you use when you are buying signs. This is why it is important to have bilingual safety signs for Los Angeles. Fortunately, The Sign Studio is one of the top suppliers in the area.
Los Angeles Is Diverse
According to the 2006-2008 American Community Survey, only about 40 percent of the people living in Los Angeles speak English only. In fact, 31 percent of residents speak English less than "very well." 44 percent of Angelinos speak Spanish, seven percent speak other Indo-European languages, and eight percent speak Asian languages. That is a diverse collection of languages. And, these numbers do not even take into consideration the tens of millions of visitors from around the globe that come to the area every year. The need for bilingual signs is evident.
Types of Bilingual Safety Signs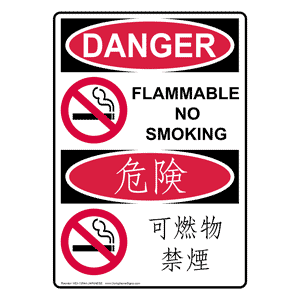 You can get your safety messages across in two languages with our bilingual safety labels and signs. Establishments with both English and non-English speaking visitors, clients, and employees will benefit from these United States-made signs. Pick from formats like ANSI and OSHA in an array of materials and sizes.
Our most requested safety signs are currently offered in English and Spanish, Tagalog, Portuguese, Korean, Italian, French, Vietnamese, Polish, Japanese, German, or Chinese languages. Or, we can customize your signage to include other languages as well. Some of the bilingual safety signs for Los Angeles that we supply are:
Caution: No Admittance
Danger: Flammable No Smoking
Danger: Hard Hat Area
Notice: Authorized Personnel Only
Notice: Safety Glasses Required in This Area
Handicap Van Accessible
Visitor Parking
These Doors to Remain Unlocked During Business Hours
Caution: Automatic Door
Emergency Exit Only: Alarm Will Sound
Fire Extinguisher Inside
And many more!
We even have specialized caution and danger signs to let people know about an X-ray machine in use, required foot protection, renovation work containing lead going on, forklift traffic, biohazards, eye wash stations, and so on.
We Have Custom Options too!
Did we neglect to mention a specialty bilingual safety marker that you need for your company? No problem! We are able to fabricate it from scratch. Also, if you have a little extra money to spend, you can even incorporate your corporate branding, including your organization's logo. That way you can promote safety while building your brand awareness at the same time.
When you contact The Sign Studio, we listen closely to what you hope to achieve with your signage. We then work with your budget to produce signs you are happy with. To get started today, contact our friendly professionals for a free consultation!