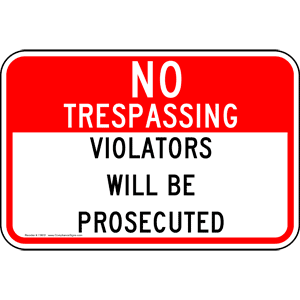 For the security and safety of your workers, clients, and business in general, there are certain procedures that must be followed. And, there are even federal and state regulations that require you to post labels and signs to warn employees of hazards. However, even when the law does not require you to do so, you should consider prominent signs that remind visitors and workers of security and trespassing restrictions to keep your organization accident-free. Fortunately, The Sign Studio is a top supplier of no trespassing signs for Los Angeles.
Types of Security and No Trespassing Signs
If there is any type of sign you want, we can make it. There are some markers that we often get requests for, such as
No Trespassing – Heavy duty no trespassing labels and signs protect your company and property while telling unwelcome visitors to stay away. We have colorful engraved, OSHA, novelty, and ANSI trespassing signs.
Security Camera and Video Surveillance Markers – These simple to understand video surveillance and security camera signs include dumpster, no trespassing, shoplifting, and CCTV information. They are available in an array of formats, sizes, and materials, such as magnetic, aluminum, stickers, and plastic.
No Soliciting Signs – Another way to keep unwanted visitors off your property is with no soliciting signs. Let solicitors know they are trespassing and not welcome on your property with these easy to read labels and signs.
Restricted Access – We have a broad range of ANSI and OSHA restricted access signs made in the US. These include "employees only," "authorized personnel only," construction, and "do not enter" markers.
Shoplifting Signs – Make your message clear with shoplifting signs. Whether you are concerned about worker theft or consumer theft, these labels and signs will help lower theft losses.
Neighborhood Watch Markers – Potential criminals will think twice about approaching your property with these neighborhood watch and business watch security signs. We have both standard and reflective varieties in several different colors.
Anti-Drug, Anti-Weapon, and Anti-Bullying Signs – We offer a wide array of signs to show that you do not tolerate tobacco, drugs, bullies, or weapons on your property. These are ideal for public areas, such as churches, schools, parks, and businesses.
Guard Dog Signs – Alert emergency responders and visitors of guard dogs with these markers. To clearly identify protected areas, post these easy to find labels.
Custom Security Signs for Any Organization
Did you know that every piece of signage on your property provides you with an opportunity to build your brand? Yes, even no trespassing and security signs can make you more recognizable to consumers. You can do this by customizing your markers with your corporate branding, including your logo, company colors, and name. Just a simple logo in the lower right side of your signs can make your brand more memorable.
When you contact The Sign Studio for security and surveillance signs for Los Angeles, we listen carefully to your goals and base our recommendations off of your vision, budget, and venue. Once you know what you want, we fabricate and install your new signs in a timely manner.
To get started, contact our friendly experts today for a free consultation!