If you own or operate a professional office, you are well aware of the confusion caused by not having the appropriate signage. Workers, clients, and other guests are doomed to getting lost without sufficient markers showing them the way. Fortunately, The Sign Studio offers decorative bars and rails that make for great office signs in Los Angeles.
What Are Decorative Bars?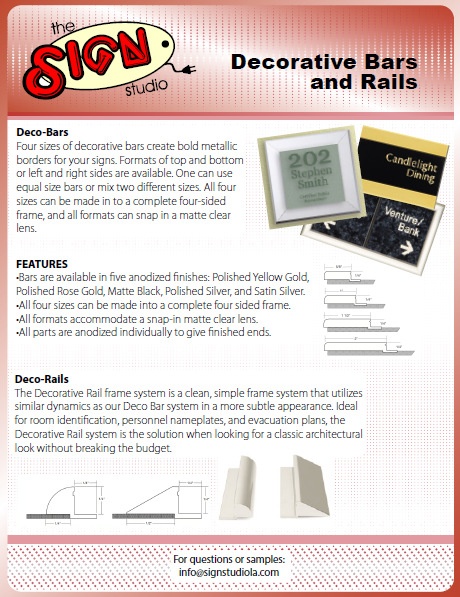 There are essentially three main parts to a sign: the copy, the substrate the copy is engraved or printed on, and the mounting materials. Decorative bars provide a classy way for you to mount your office signs. We are able to create bold metallic borders for your signs with the four sizes of decorative bars. There are formats of right and left sides or bottom and top available. Other options include mixing two different sizes of bars or making a square with four equal sides. All options support a snap-in matte clear lens that keeps glare to a minimum.
All of the parts of the decorative bars are individually anodized to give finished ends. There are five anodized finishes to choose from, including polished silver, polished yellow gold, satin silver, matte black, and polished rose gold.
What Are Decorative Rails?
With a more subtle look than our decorative bar system, the decorative rail frame system is a simple, clean setup that has similar dynamics. When you are looking for a classic architectural appearance that does not break the bank, the decorative rail system is your best alternative. It is perfect for personnel nameplates, evacuation plans, and room identification.
How Are Decorative Bars and Rails Used?
Decorative bars and rails make for great office signs in Los Angeles no matter how you use them. The following are popular ways in which they are used:
Wayfinding Signage – Just because a sign is mainly used for functional purposes, it does not mean it can't be fashionable as well. Show the way with style by incorporating decorative bars.
ADA Signs – You are required to have specific types of signs in your building under the Americans with Disabilities Act (ADA). We know what is needed to meet these requirements and can help bring you into compliance using decorative rails.
Suite Signs – Wayfinding signage tells guests where to go, but you need suite signs to show them they have found the right room.
This should give you an idea of what is possible with decorative bars and rails. In addition, we can customize your signage with your unique branding, including matching your business's typefaces, logo, and colors.
If you are unsure about what office signs are right for your venue, don't worry! The friendly experts at The Sign Studio listen closely to what you have in mind for your project. We then provide you with a variety of recommendation based on your goals, building, and budget. We then get down to work manufacturing and mounting your signs once you know what you want.
Contact us today for a free estimate if you are interested in learning more!