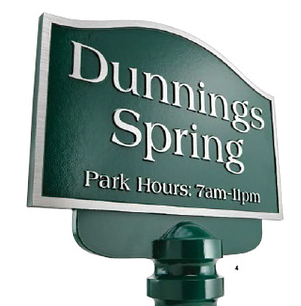 There are two main types of metal plaques: cast and etched. On their own, one type of plaque is not necessarily better than the other. It all depends on what look you hope to achieve with your metal plaque and for what purpose it will be used. This entry seeks to answer the question: "What's the difference between cast and etched metal plaques?"
Cast Metal Plaques
For more than 6,000 years, people have been performing the process of metal casting, and it is still in widespread practice today. These plaques are made by pouring molten aluminum or bronze into a mold of clay or sand crafted to the desired shape. The molten metal is then allowed to solidify. The result is a heavy duty, single piece plaque that can be mounted and finished to fit any purpose.
Cast metal is used to create logos, emblems, and plaques where a sense of architectural depth and permanency is needed. They are perfect for universities, government buildings, and professional offices. In addition, these plaques are available painted, oxidized, polished, and with more than a dozen other finishes. Plus, the manufacturer we use, Gemini, has an environmentally friendly process that uses only mercury and lead free alloys.
To commemorative plaques, we can add a bas relief casting for added dimension and detail. We can create a raised likeness of any image you submit to us. A clay mold is created based on the picture, and then, it is cast for attachment to your plaque.
Etched Metal Plaques
When panels and plaques made with precise detail are of the utmost importance, nothing beats the etching process. Even the most complex artwork can be transferred to copper, brass, stainless steel, or bronze with chemical etching. The image of your choice can be turned into a piece that will be admired for generations.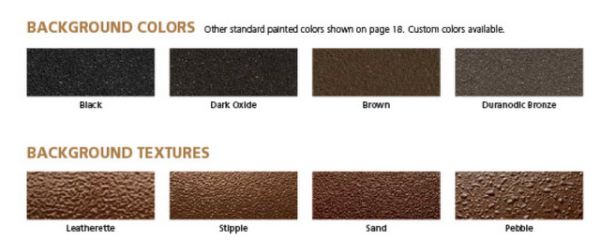 Some of the more popular graphic options for etched plaques are
Line Art – By reproducing a black and white line drawing, a sketch can be etched with fabulous results. The fine lines are captured in exquisite detail.
Recessed Graphics – Recessed graphics and text that are paint filled are the standard for etched plaques.
Photography – With halftone images, etched photos are created. They have visible dot patterns and resemble newspaper photographs. To contrast with the brushed metal finish, the dots are filled with black ink.
Raised Graphics – The background is painted with raised graphics or text. This leaves the graphics and text in the alloy color.
Gemini: World-Renowned Plaques
As mentioned above, all of our plaques come from Gemini, a world-renowned manufacturer of metal letters and plaques. For more than half a century, Gemini has been an established name in the signage industry. Plus, they have been producing plaques of top quality for the recognition, sign, and award industries for twenty years. Gemini uses only the best quality materials and guarantees their products for life.
If you are ready for a marker that will last for many decades to come, contact The Sign Studio for a free consultation today.