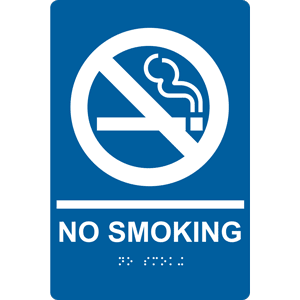 Smoking is a health hazard. Everyone knows this by now. Many organizations have put smoke-free policies in place to encourage visitor and worker safety and health. Research shows that smoking in the workplace costs businesses money, and the American Lung Association found that smokers have twice as many accidents on the job as nonsmokers. Smoking can threaten your business operations along with everyone in the area in work environments that involve flammable materials, such as gasses and liquids.
For permanent reminders of danger areas and smoking policies, The Sign Studio is one of the top suppliers of no smoking signs in Los Angeles. Both ANSI and OSHA formats are available for our no smoking decals and stickers, and they come in an array of colors and styles for break rooms, restrooms, and any other area. We even have Braille signs for the visually impaired.
Types of No Smoking Signs
No smoking signs come with a wide range of standard messages, or we can custom design markers for your enterprise. Here are some of our most requested options:
California-Specific Signs – The Golden State is often referred to as "America's Non-Smoking Section." This is because we were the first state to ban smoking in just about all workplaces in 1995. To help remind visitors to your facility of California's strict laws, we offer a variety of signs, including Proposition 65 secondhand smoke signs.
Clear Window Decals – We use industrial strength materials to produce our clear no smoking labels, so they are perfectly suited for indoor and outdoor usage. There are both "adhesive on front" and "adhesive on back" styles. All you have to do is peel and stick.
No Smoking Symbol Stickers – It seems as if these signs are popping up everywhere these days. This is the classic no symbol, or circle with a diagonal line through it, superimposed over the image of a cigarette. In addition, we have decals to denote areas where smoking is appropriate.
Heart Labels – To send cancer or heart healthy reminders with your no smoking message, these signs feature cancer ribbons or heart shapes. They include messages like "Caution: Secondhand Smoke Is Dangerous to Children."
Vehicle Markers – Make it clear that smoking will not be tolerated by passengers or drivers by posting these simple to understand no smoking stickers in your vehicles. There are clear and solid vinyl options as well as rear or front adhesive choices.
ADA Acrylic Signs – Acrylic markers are an attractive and durable way to get your no smoking policy across. They also come with Braille and ADA-compliant tactile symbols and wording. We have a wide selection of standard colors to match your décor.
These are just some of the alternative we have to choose from. We also have plenty of custom options featuring your personalized message, or we can incorporate your business's logo and colors into the sign to increase your brand recognition. The solutions are seemingly limitless.
Are you in need of no smoking decals in Los Angeles? Contact The Sign Studio today for a free consultation!