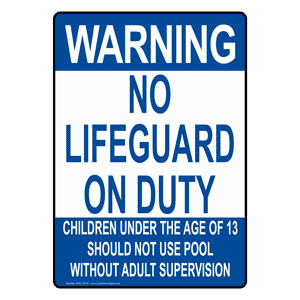 Pools and recreation areas can be a lot of fun. There is nothing quite like spending the day splashing around in the water or enjoying wide open park spaces. Unfortunately, these play areas can also be quite dangerous. And, as the property manager, it is your responsibility to do your due diligence to make sure people are aware of potential dangers and how to use spaces safely. Thankfully, The Sign Studio is here to help you out with pool and recreation safety signs for Los Angeles.
Types of Pool and Recreation Safety Signs
We provide a broad array of safety labels and signs related to spas, bike parking, weapon / alcohol rules, pond warning signs, pool rules, animal handling, drug-free zones, and more. Here are markers we get the most requests for:
Animal Handling / Pet Safety – Make your animal control or pet safety messages clear with animal handling and pet safety signs. We have the animal and pet control signs you need from fire safety and poop scooping stickers to animal handling and Beware of Dog signs.
Weapon / Drug / Alcohol-Free Signs and Property Rules – We offer property rules signs in ANSI, OSHA, and other formats. We have "Zero Tolerance for Alcohol, Drugs, Smoking and Weapons," "Drug Free Zone: You Are within 1000 Feet of a Drug Free Zone Purchase or Sale of Drugs in This Area Is a Felony," and many other similar signs.
Pool / Spa / Water Safety – About ten people per day die from unintentional drowning. And, in 2012 alone, there were a total of 651 deaths from recreational boating accidents according to the Coast Guard. Help avoid these tragedies on your property with prominent water safety signs. These markers are also required by law.
Park & Recreation Signs – You will find the markers you need for fishing, trails, boating, beaches, parks, campgrounds, golf, and biking among our selection of park and recreation signs. We even have standard lists of park rules and animal liability signs.
Playground Signs – To identify areas where kids are playing and adults must be cautious, utilize playground safety signs. These simple to understand Children at Play labels and markers include various warnings to help keep children safe.
Emergency Contact – In the event of an emergency, these easy to read and heavy duty emergency contact markers and labels will provide important information. We have options that are bilingual or available in alternate language formats.
These are just a few examples of the many different types of pool and recreation safety signs for Los Angeles that we have available in our catalog. In addition, we can create custom markers featuring any wording you want. We can even incorporate your organization's logo and colors to boost your branding as well as lend a level of authority to your signage.
If you are ready to make your property a safer place, contact the friendly experts at The Sign Studio today for a free consultation and quote on pool and recreation safety signs.