If you think that all sign frames are created the same, you need to think again. There is a wide variety of options out there for you to choose from. However, if you need frames for exterior signage, you will want to seek out a product that is both durable and has a distinct appearance that will help it stand out. At The Sign Studio, our exterior outdoor frames for Los Angeles are made of top-quality aluminum and are sure to catch the eyes of passersby. Today, we are going to take a closer look at what options are available for your organization.
What Are Exterior Outdoor Frames?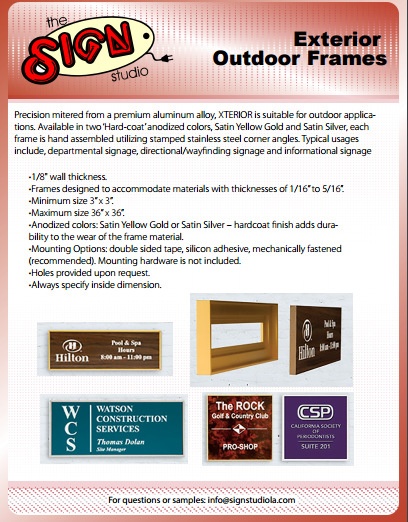 Our exterior frames are suitable for any outdoor applications thanks to their construction. They are precision mitered from a premium aluminum alloy. Each frame is assembled by hand using stamped stainless steel corner angles. They are available in two hard-coat anodized colors, satin silver and satin yellow gold. This hard-coat finish makes the frame materials more resistant to wear.
The frame has a one-eighth inch wall thickness and comes with an array of custom options. For instance, you can pick from frames that are 3" by 3" all the way up to 36" by 36". Mounting options include silicon adhesive, double-sided tape, and our preferred method of mechanical fastening. We are able to put holes in the frame for easier installation.
What Kinds of Signs Go in Exterior Outdoor Frames?
These frames are designed to accommodate materials with thicknesses of 1/16" to 5/16". This means you can put a variety of different types of signs in them. If you are going to install your sign where it is exposed to the elements, we recommend using a heavy duty material. We suggest engraved signs. We are a bit biased since we have some of the best engraving machines in the region, but they produce affordable, customized markers that will look great for many years to come.
Best Uses
But, how are exterior outdoor frames for Los Angeles typically used? We're glad you asked:
Wayfinding/Directional Signs – If you operate a large facility with a variety of different rooms that need to be easily accessible, you can point the way with directional arrows or with simple directions for how visitors can find the room or amenity they need.
Informational Signage – Do you have certain rules that people must follow upon entering your building? Make this information crystal clear by tastefully displaying the rules near your entrance in an exterior outdoor frame.
Departmental Signs – Does your campus have a variety of different departments that guests and employees need to be able to locate? Make their search easy by clearly labeling each department with exterior outdoor frames. You can also use these frames to identify different suites within your complex.
And, this is just a sampling of the ways you can use these frames. If you have some outdoor signage application that could benefit from exterior frames, call the friendly experts at The Sign Studio today for a free consultation.