It's August, and you know what that means: it's time to get the gang back together for another fantasy football season. Most leagues have a chunk of money on the line, and sure, winning a couple hundred bucks off of your armchair quarterbacking is nice, but there seems to be an added level of competition that comes along with offering a trophy to the winner. Fortunately, The Sign Studio and our trophy division, The Trophy Studio, offer fantasy football trophies online. Here are some ideas to make your 2016 fantasy football season special.
Engraved Traveling Trophy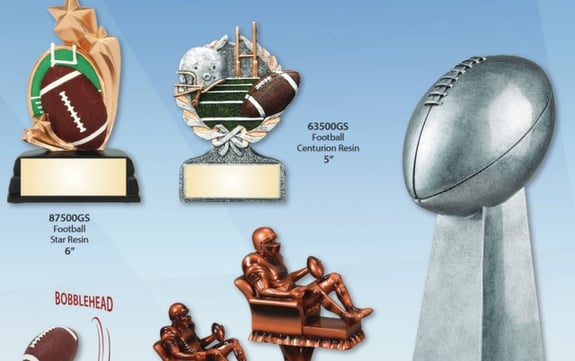 One of the most popular fantasy football trophy options is the traveling or perpetual trophy. Essentially, the winner of the last season gets to keep the trophy in their possession until a new winner is crowned, then the trophy changes hands, usually at an end of year Super Bowl Party or other event. To denote the winners' prowess for eternity, a little engraved panel featuring the year, the winner's name, and the winner's team name are added to the trophy. We have a Lombardi trophy replica that would be ideal for this. And, we can easily update your trophy for you each year.
Pro tip: If you happen to be the trophy holder for the year, it is fun to take pictures with the trophy in weird locations as a way to taunt your fellow players. For instance, get a picture of the trophy being held by the sworn enemy of the second-place finisher. Have fun with it!
Choose a Smaller Trophy that the Winner Gets to Keep

We offer two standard fantasy football trophies: one is thirteen inches tall and the other is nine inches. They are identical aside from their sizes, and both have a football player holding a football while lounging in a La-Z-Boy. The player is mounted on a black base with plenty of room for your custom engraved message. The smaller trophy is ideal for awarding your league's winner with a trophy that they can proudly display on their mantel.
Don't Forget Your Loser Trophies!

There is nothing worse than having half your league give up for the final couple games because they know they cannot compete with the top dogs. One way to keep owners engaged is to offer a loser trophy. These often feature a big toilet, a cry baby, beauty queen, or a horse bobble butt. Pro tip: Require that the winner of the trophy have their picture taken with the trophy so that they can be publicly shamed on social media.
Your top priority as commissioner of your league is to award hardware to the league winner regardless of your budget. This will create a new level of camaraderie and competition in your league. We use top quality materials to ensure your trophy outlasts your league, and we offer professional engraving services. If you are looking for fantasy sports trophies online, go with the friendly experts at The Sign Studio. Contact us today for a free consultation.