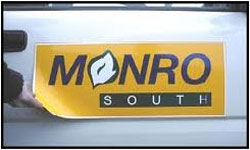 Car magnets are an excellent way to get your company's name out there whether you are a restaurant owner, florist, landscaper, small business owner, housecleaner, caterer, contractor, realtor, or anything else. Fortunately, The Sign Studio is one of the top suppliers of car magnets for Los Angeles. Let's take a look at some of the ways you can put these marketing tools to use for your organization.
What Are Car Magnets?
Before we get into their uses, we want to make sure you know what car magnets are. They are essentially vinyl signs that feature a magnetic layer that allows them to cling firmly to the sides of trucks, vans, cars, or any other vehicle. They are heavy duty and come in a variety of different sizes. You can attach them just about anywhere on any type of vehicle.
Make a Fleet Appear Instantly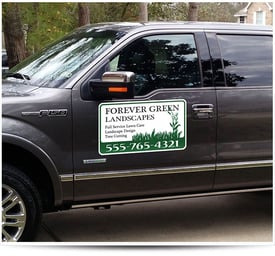 You do not need a fleet of vehicles for your company when you have car magnets. Instead, any truck can be part of your fleet when you order personalized magnets. You can share magnets among many vehicles to save some money. If your business has employees who travel to job sites or make deliveries using their personal vehicles, car magnets are the perfect way to have them temporarily advertise your enterprise while on the clock. This will also give your fleet a professional appearance that will inspire trust in prospective customers.
Billboards on Wheels
One of the most popular ways to market on a vehicle is with a car magnet. They are basically billboards on wheels. Only they are better. Billboards rely on your potential clients driving by them. When you put car magnets on your vans, they will go where the consumers are. You can put the magnets on the back of your vehicle, on the sides, or in all three spots. Since people have the most time to read what is on the back of your truck, we recommend putting your magnet there.
Car Magnets Go on and Come off Easily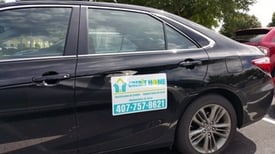 Car magnets are not permanent like vinyl adhesive films or paint jobs. You can take them off and put them back on as much as you would like. They also do not leave any adhesive residue behind. You can use car magnets without worrying about causing damage to your paint job or hurting your car's resale value. In addition, you may just want to be completely off-the-clock sometimes and not have an advertisement for your business on your vehicle. Car magnets make this possible.
These are just some of the reasons why car magnets are a smart investment. They are both affordable and effective at marketing businesses of all varieties. The friendly experts at The Sign Studio are skilled at making vehicle magnets for Los Angeles that catch eyes. With our state of the art software and large format digital printers, we can perfectly match your corporate colors, fonts, and logo to keep your branding consistent.
If you are ready to put car magnets to work for your company, contact us today for a free estimate.