The 2015 trade show season is upon us, and if you plan to be a sponsor or exhibitor at these events, chances are you are looking for new ways to turn heads and bring attention to your business. A trend that we have noticed recently is companies opting for smaller booth spaces in favor of spending more money on cutting edge booth designs. One affordable way to get your message across and attract attendees is with custom imprinted trade show table throws for Los Angeles.
Stay ahead of the competition with these three popular types of table throws:
1. Fitted Round Table Throws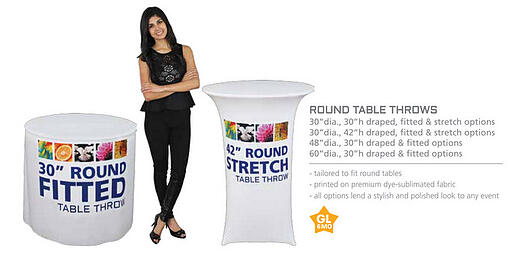 These table throws are specifically tailored to fit the most common round tables with diameters of 30 inches, 48 inches, or 60 inches as well as heights of 30 inches or 42 inches. They come in eleven standard fabric colors, or we can create custom colors to match your corporate colors. All alternatives lend a polished and stylish look to any trade show. Plus, with limited booth space, these throws serve to conceal your materials under the table.
2. Imprinted Table Throws
As with the above option, imprinted table throws come in eleven standard fabric colors and are customizable. There are two main types: full and economy table throws. Full table throws cover all sides of the table to the floor. Economy throws leave the back of the table exposed for easy access to storage. The throws are designed to fit six foot or eight foot rectangular tables.
3. Stretch Table Throws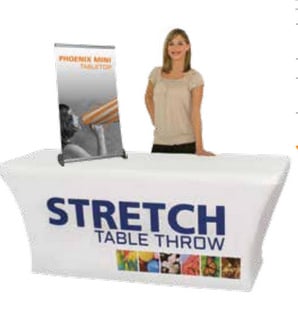 The stretch cover is the trendiest and latest table cover style. It is made with a special polyester material that offers the ideal canvas for displaying full color graphics. Our throws are cut for a contour fit, so there is less stretching needed, and your graphics will maintain their integrity. Stretch trade show table throws for Los Angeles are available for round and rectangular tables of many different sizes, and several of them come with a carrying bag.
Customize It!
There are many different ways to customize your table throws. With imprinting, different vinyl colors are adhered to your table cover. This is typically a low cost way to promote your company's name. Another, more expensive method that really makes a huge impact is printing directly onto the throw. Using state of the art, wide format digital printers, photos, images, and other sharp graphics can be rendered. This option only works with some table cover varieties.
Are you unsure about what you need for your exhibit? Let us help you! When you first call us, we will set up a consultation where we will listen to what your goals and vision are. We will then come up with a design, materials, and other solutions that fit your needs. Our proofs will show you exactly what you can expect. If you are not happy, we go back to the drawing board and make it right. We work with you during every step of the process.
If you are ready to liven up your trade show display for 2015, give The Sign Studio a call for a free consultation and quote.