The smell of the beer. The heated yelling. The long nights of research. It can only mean one thing: the fantasy football season is about to kick off. Summer is great and all, but it is just build up to your league's draft. Once your league has been around for a few years, your draft becomes a bit of an event that goes on all day and features yard games, good friends, cold beverages, great food, activities for the fantasy football widows, and of course the draft. You can add to the excitement of the upcoming season when you buy fantasy football banners online from The Sign Studio and our sister shop, The Trophy Studio.
Banners Can Be Used Year after Year

As the commissioner, it is your job to plan the draft and to keep league members engaged year after year. For the most part, that is an easy task. However, the more enjoyable you can make draft-day festivities, the more fun competitors will have. A custom banner just adds to the excitement.
There are essentially two types of banners: digitally printed banners and cut vinyl banners. Digitally printed banners are typically made of vinyl and feature full-color graphics printed on our state of the art large format digital printer. No designs are too intricate for our printer. For a little fun, you might incorporate the bodies of football players with the faces of your league members. We can do it.
Cut vinyl banners consist of vinyl letters, numbers, or graphics that are cut from a single sheet of vinyl and applied to a banner. This is a cost-effective solution when you do not need a bunch of colors or if you want a banner that is easy to update. For instance, you may want to update your banner each year with the date, time, and location of your draft.
Don't Forget Your Trophies!

The Sign Studio is basically your one-stop shop for all of your fantasy football award, trophy, and banner needs. We have already written about what options are available for trophies and other awards, so we will spare you the details. Yet, we will touch on some of the solutions available when you buy fantasy football trophies online from us:
Engraved Traveling Trophies – These trophies are usually on the large side and feature plenty of room for us to engrave the name, team name, and year of each season's winner.
Winner Trophies – Unlike the above trophy, the winner for a particular season actually gets to keep this trophy. These are usually smaller and look great on your mantel.
Loser Trophies – There is shame in losing. Loser trophies featuring toilets, crybabies, horse butts, or other derogatory imagery will ensure league members stay engaged until the season ends.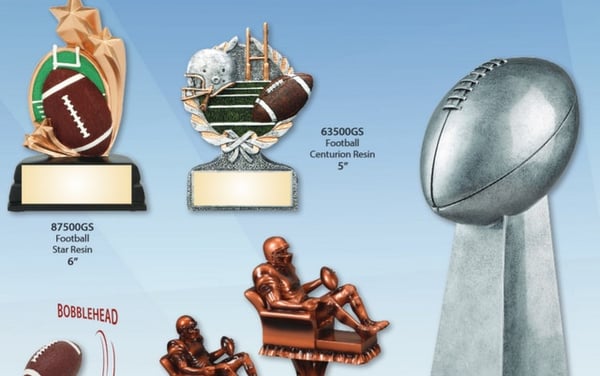 Regardless of your budget, it is the commissioner's duty to make the fantasy football season an enjoyable experience. We can help you by providing you with banners and trophies made of high-quality materials. If you have something in mind that isn't mentioned above, give us a call, and we'll let you know if it's possible. For a free consultation, contact the friendly professionals at The Sign Studio today.