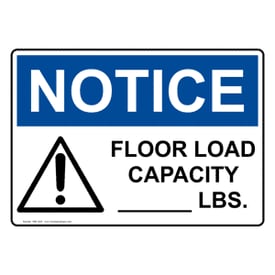 There are two common hazards that affect the majority of warehouses. When you have low clearance in certain areas of your facility, you need to warn workers to watch their heads. In addition, overloading your grating, platforms, or warehouse is an everyday hazard. You can clearly display the secure capacity in a plant, warehouse, or factory with floor capacity signs. Fortunately, The Sign Studio is one of the top suppliers of head clearance and floor capacity signs in Burbank, CA.
Types of Floor Capacity and Head Clearance Labels and Signage
We have a broad range of standard signs and labels in stock for just about every situation you may encounter in your warehouse. Here are some of the markers we get the most requests for:
"Notice: Clearance ____ FT" – These OSHA-format markers make your message clear to guests, workers, and inspectors. This safety sign is meant for surface mounting and is manufactured to be abrasion, UV, moisture, and chemical resistant. You can also pick from a variety of different substrates, including PVC, aluminum, and magnetic backing.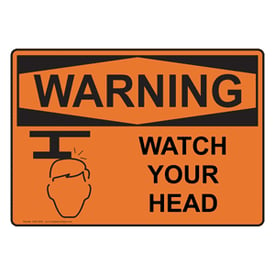 "Notice: Floor Load Capacity _____ lbs." – This floor capacity sign is similar to the above option. We can print the marker with the load capacity of your choice, or you can use a dry erase marker or other marking devices to enter the weight capacity. We also offer labels with self-adhesive backing, so you can just peel and stick.
Stencil Kits – In addition to working great for spray painting the head clearance in various areas of your warehouse, this stencil kit also works well for posting swimming pool and spa depths. The kit comes with numbers 0 through 9, ½, as well as feet and inches denotations. There are four standard number heights to choose from.
"Maximum Capacity _____ People" – If you have an elevator, room, or other areas that have a set capacity of how many people it can hold, make sure it is posted. This will help you pass fire inspections while keeping visitors to your building safe.
"Warning: Watch Your Head" – These markers are OSHA-format and printed in color with an orange background using UV-stable ink. They are suitable for exterior and interior use at temperatures from -40 to 180 degrees.
Ready to Order?
This is just a sampling of what we have available. We can also create custom signage that fits your unique circumstances. We can even add your branding to your signs to achieve an added level of authority while increasing your brand recognition.
When you contact The Sign Studio, we listen closely to your goals for the project. We then make recommendations based on your vision, budget, and your facilities. Once you approve of our proofs, we get down to work fabricating your signage. We then work with your schedule to install your signs at a time that is convenient for you. We can even follow up with maintenance down the road.
If you are ready to make your workplace safer with head clearance signs for Burbank, CA, contact our friendly experts today for a free consultation and estimate.